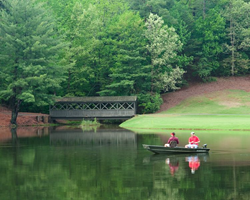 2014 Bliss Award™ Winner as Best Mountain Community of the Year
Atlanta, Georgia (PRWEB) March 26, 2014
The first stop of Real Estate Scorecard's annual community site visits was at Big Canoe, an award winning gated mountain community in Georgia. Meticulously maintained, Real Estate Scorecard had the chance to see long range mountain views at the higher elevations before the leaves reappear on the trees. Spread across 7 mountains, elevations at Big Canoe reach as high as 3,200 feet. Set in a lush pine forest, it was also easier at this time of the year to see more of the homes situated off the curvy mountain roads. The roads are in excellent condition. There are 31 homes under construction keeping Big Canoe home builders busy.
Approximately 2,500 mountain homes have been built to date of the 4,750 homes planned. Mountain homes at Big Canoe are impressive yet discreetly blend into the Certified Wildlife Habitat. Homes have interesting natural element exteriors and soothing neutral colors. Big Canoe has acquired quite a collection of home design awards including:
2003 Cooking Light FitHouse
2005 Street of Dreams (all 4 homes sold during the 6 week event!)
2008 Southern Living Idea House
2009 Atlanta Magazine's Dream Home
2011 Bob Timberlake Show Home
2011 Silver Obie Award Winning Home at Choctaw Village
2012 Gold Obie Award Winning Home at Wildcat
The newest three neighborhoods at Big Canoe are Twin Creeks, a 14 cottage home neighborhood connecting to Meditation Park, Choctaw Village, a golf club neighborhood in the heart of Big Canoe, and Wildcat, a new neighborhood close to the north gate and miles of top notch hiking and biking trails. Whether buyer's desire flat and easy trails or an adventurous climb, Big Canoe has over 22 miles of manicured hiking trails on paved or gravel paths within the gated mountain community in Georgia. Big Canoe new homes begin in the mid $300k's and re-sale homes can be found under $200k.
The staff of Real Estate Scorecard grabbed a golf cart and toured two of the three short tight golf courses. The greens are tricky and pin placements challenging. Big Canoe's Creek course parallels Lake Sconti. The sky reflected in the mirror-like lake. The golf path leads over crystal clear creeks and through the President's Bridge, one of several covered bridges that are a signature look at Big Canoe. The Cherokee Course stole our breath away. The 2nd and 9th hole have elevated tee boxes dropping as much as 300 feet to the green. The Choctaw Course is known for the thunderous waterfalls and rushing creeks.
Upcoming Golf Tournaments at Big Canoe include:
April 23, 2014 Good Samaritan Golf Tournament
May 9-10, 2014 Spring Member to Member Competition
June 4-7, 2014 Mountains International
August 15-16, 2014 Fall Member to Member Competition
September 25-27, 2014 NFL Draft-style Tournament
October 8, 2014 Queen of the Mountain
What's New at Big Canoe?
2 Dog Parks at Wildcat (Big Canoe is a dog friendly community)
Four Pickleball Courts Planned at Tennis Center
Permanent Veranda Roof being added to the Lake Sconti Clubhouse
May 2-3, 2014 Big Canoe Annual Tour of Homes
Real Estate Scorecard enjoyed watching Big Canoe's private television channel during their stay. The week's social club activities, the history behind Big Canoe and local area information continuously streams on the channel. Their dining experiences on this trip took them beyond the gates to Fuego, a delicious inexpensive Mexican Restaurant & Tequila Bar and Appalachia, with an impressive menu and a cozy atmosphere. Both restaurants are located less than a mile from the gated entrance.
On the way out, Real Estate Scorecard planned to make a stop at the Gibbs Gardens Daffodil Festival. Gibbs Gardens is one of the largest private gardens in the US and is only 10 minutes from Big Canoe. Jim Gibbs and his family planted millions of flowers in such a way that the flower collections bloom year round called the Gibbs Gardens Seasons of Color. Wonderful music festivals are hosted monthly in the gardens.
Cool Things to Know About Big Canoe:
Lights Out after 10pm - Property owners insist on seeing the millions of stars.
Tidy Trash - No noisy garbarge trucks and trash receptables. Convenient drive thru receptacles are located by the north gate.
Mail Services - No ugly mailboxes. Centralized mail center located at The Village.
It's hard to resist the call of Big Canoe! After a visit at this gated mountain community in Georgia, peace is attainable.
42 property owners have scored Big Canoe a 92 out of 100. Visit Big Canoe's Community Review Page to read the heartfelt comments about Big Canoe. Real Estate Scorecard raised Big Canoe's score from 80 to 82.
Buyer's searching for a park-like setting in the mountains with the luxuries of a city inside the gates or within a reasonable distance would be missing out if they didn't tour Big Canoe before buying a mountain home.
Contact Big Canoe direct at 866.244.2266 to schedule a tour.
About Real Estate Scorecard:
Real Estate Scorecard writes unbiased real estate reviews providing in-depth information about popular gated communities in Florida, Georgia, North Carolina, South Carolina and Tennessee, all in an effort to help people discover where to retire in the Southeast.
Website: http://realestatescorecard.com
Image by Randy Lewis