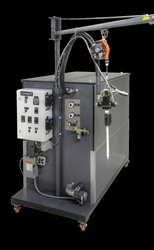 Great Value
Newcastle, ME (PRWEB) March 27, 2014
EXACT Dispensing Systems designs, manufactures and installs systems for the meter mix dispensing of resins, adhesives and sealants for industry.
The NEW Family of "HOT BOX" systems solves the problems associated with the meter mix dispensing of heated two component resins. This family of MMD (Meter-Mix-Dispense) products has been developed to provide year round temperature consistency and control through a simple trouble free approach.
"HOT BOX" Meter/Mix & Dispense Systems are available in Full and Half Heated Options with four different models offered for virtually all levels of production. These fully self contained portable systems use gentle, energy efficient, electric convection recirculation heating. The gentle approach to continuous controlled heat offers the best results for the resins metered and dispensed and for the production process where they are used. The use of warmed resins is a major benefit in most potting types of applications - lower viscosity due to the heated fluid = better flow in and around internal potted parts such as windings and electrical components.
The "HOT BOX" eliminates cold spots in your MMD solution, is easy to operate and maintain and delivers continuous quality resins on ratio and at temperature.