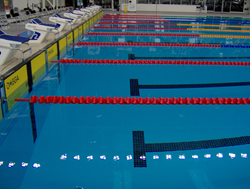 "Now we are probably the best in the world" states Adam Luscombe, General Manager of SA Aquatic Centre
Coventry, RI (PRWEB) March 27, 2014
Neptune Benson, leading manufacturer of commercial aquatic filtration systems, ultraviolet disinfection systems and aquatics components, is proud to have installed the Defender® Regenerative Media Filter in the SA Aquatics Centre in Adelaide, South Australia.
The Neptune Benson Defender® was chosen for water quality as well as sustainability. By using Defender® there is 90% less water and waste, 30% less fuel and chemicals used, 75% smaller footprint as well as a 50% reduction in electricity. In addition the Defender® removes particles down to 1 micron or less resulting in clean crystal clear water.
The SA Aquatic & Leisure Centre opened its doors to the public back in April 2011. It brought elite aquatic sports back to Southern Australia. The facility is compliant with the requirements of FINA, the world governing body for diving, water polo, synchronized and open water swimming, making it ideal for hosting both the national and international events. Since opening, it has been recognized as one of the finest competitive swimming centers in the world.
"Now we are probably the best in the world" states Adam Luscombe, General Manager of SA Aquatic Centre.
Neptune Benson's Defender® aquatic filtration system was described by one of the divers as "like diving in silk sheets". See video: http://youtu.be/dM_oP3rIUbg.
In 2013, Defender® regenerative media filters received certification by the Australian "Smart Watermark Program" in recognition of its water saving qualities. Defender® is the only filter of its type to ever receive such recognition.
Please contact Neptune Benson for more information Ph +01 401 821 2200 or aquatopia@neptunebenson.com
For more information on the SA Aquatic Centre please contact saaquatic@ymca.org.au
About Neptune Benson
Neptune Benson is the leading manufacturer of filtration and ultraviolet disinfection systems for aquatic centers, waterparks, industrial and municipal applications and aquatic life support. Featuring the award-winning Defender® Regenerative Media Filter, and the ETS Ultraviolet Disinfection System; Neptune Benson also offers steel & fiberglass sand filter systems, the AEGIS anti-entrapment shield, fiberglass movable bulkheads, Dominion butterfly valves, Guardian strainers and other Lawson Aquatics accessory products
Purity Unrivaled™
See: http://www.neptunebenson.com
About SA Aquatic Centre – YMCA South Australia
See: http://www.saaquatic.ymca.org.au