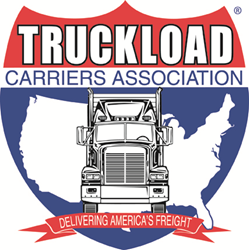 This challenge was a new way to get the 'movers and shakers' of the trucking industry actually moving and shaking!
Grapevine, Texas (PRWEB) March 26, 2014
At the Truckload Carriers Association's (TCA) Annual Convention, the organization took yet another "step" in its ongoing quest to improve the health and wellness of professional truck drivers and others who work in the trucking industry.
For the past three days, the first annual "TCA Challenge" had the association's eleven officers and its president compete to see who could log the most steps over the course of the convention. The Challenge, created by Healthy Trucker (a division of NAL Insurance of London, Ontario), was tracked in real-time on http://www.tcachallenge.com.
Each officer was paired with a FitBit wearable activity tracker. The devices showed that this group logged 629,452 steps and 314 miles during their stay at the Gaylord Texan, the hosting venue for the convention. That is roughly equivalent to walking halfway across Texas. The winner, Aaron Tennant, president of Tennant Truck Lines, Inc., Colona, Illinois, logged 100,289 steps all by himself! As a reward for his effort, Tennant won 20 FitBit devices (along with bragging rights) that he can use to help educate those in his company about how to get fit.
In addition, all convention attendees had the option to compete in a general activity challenge by using a FitBit device or by downloading the Moves™ iPhone or Android App. There were 27 participants in this part of the challenge, with the winner, Kathy Penner, associate publisher of Truck News, Toronto, Ontario, taking a total of 99,489 steps.
Over the three-day event, almost 1,600,000 steps and 793 miles were logged by all the participants.
"This challenge was a new way to get the 'movers and shakers' of the trucking industry actually moving and shaking!" said Tom Kretsinger, Jr., TCA's outgoing chairman and the president of American Central Transport, Inc., Liberty, Missouri. "We had fun with it, but it also helped focus attention on getting fit, which is one of the key objectives in TCA's three-year strategic plan. Obesity, sleep apnea, diabetes, and all the other risks that come from a sedentary lifestyle can be reduced — or sometimes even eliminated — with some creative thinking and new attitudes."
For further information on TCA and its health-and-wellness activities, please visit http://www.truckload.org and follow the organization on Facebook — http://www.truckload.org/Facebook — and Twitter — http://www.truckload.org/Twitter. You can also learn about this year's Annual Convention on both social media sites with the hashtag #2014TCA.
Photo: http://bit.ly/OxkL4F.
# # #
TCA is the only national trade association whose collective sole focus is the truckload segment of the motor carrier industry. The association represents dry van, refrigerated, flatbed, and intermodal container carriers operating in the 48 contiguous states, as well as Alaska, Mexico, and Canada. Representing operators of more than 200,000 trucks, which collectively produce annual revenue of more than $20 billion, TCA is an organization tailored to specific truckload carrier needs.