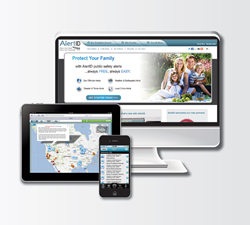 Arlington, VA and Las Vegas, NV (PRWEB) March 26, 2014
Once spring has sprung people begin to clean, remodel, and repair their homes after another year of wear and tear. Making home improvements is a sound investment and an invaluable way to protect your loved ones. The National Crime Prevention Council and AlertID encourage residents to consider safety measures that will protect their homes and reduce the incidence of crime.
Homeowners and renters can make their homes safer by design by following the principles of Crime Prevention Through Environmental Design (CPTED). CPTED is an approach that calls for community members and officials to create a climate of safety in a community right from the start, by designing a physical environment that positively influences human behavior. Its four key principals are meant to improve the safety and security of your home. These principles are:
Access control – Make sure your home has proper locks and windows, and always use them. If possible, install an alarm system for added security. Burglars look for easy access, so lock windows, doors—and crime—out of your home.
Surveillance – Well-lighted homes make burglars nervous. Light up outside entrances—front, back, side, basement, and garage. If possible, install motion detector lights to warn off anyone sneaking around at night.
Territorial Reinforcement – Keep your placed looking lived in. Set random timers to make it look like you are always home, even when you are not. Schedule routine maintenance and improvements to keep your home a fortress of safety and protection for your family.
Maintenance – Trimming bushes and trees will remove a burglar's favorite hiding place. Mowing grass and tending to landscaping will give your house a lived-in look. During home improvements, remove ladders from the house at the end of each day and store your building materials securely out of sight.
In addition to the tips above, AlertID protects your family and your neighborhood while helping to reduce crime. AlertID's free service (online and mobile app) informs you of the dangers in your neighborhood and allows you to communicate with neighbors.
Become aware of your surroundings – Register for FREE at AlertID.com, enter your address and see an easy-to-read map showing sex offenders living or working in the vicinity (as well as receive alerts when new offenders move to the area). View local crime information in many major cities and also receive alerts for severe weather, earthquake, fire, hazmat and much more.
Share important information with neighbors - If you see something that is suspicious in your neighborhood, report to local law enforcement and share updates with your neighbors on AlertID. Members may send an alert or photo to their neighbors, law enforcement or even the Department of Homeland Security.
About the National Crime Prevention Council
The National Crime Prevention Council is the nonprofit leader in crime prevention. For more than 30 years, our symbol of safety, McGruff the Crime Dog®, has delivered easy-to-use crime prevention tips that protect what matters most—you, your family, and your community. Since 1982, NCPC has continuously provided the American public with comprehensive educational materials, training programs, and effective crime prevention messaging, delivered in large part through its vast network of more than 4,600 state and local law enforcement agencies, crime prevention associations, community groups, foundations, and corporate partners. For more information on how NCPC can be a public safety expert for you or how to "Take A Bite Out Of Crime®," visit http://www.ncpc.org.
Become a fan of NCPC: Friend us on Facebook | Follow us on Twitter | Find us on YouTube
About AlertID, Inc.
AlertID is the fastest growing safety network for trusted information, helping people protect their families and communities. AlertID offers sex offender alerts that cover more than 90% of the US population and crime alerts for hundreds of cities in the US and all of England. AlertID has more than one million members in 85% of US zip codes and more than 30 countries. AlertID has proven to help reduce crime, using secure and proven technology to create two-way communication between citizens and federal, state, and local authorities to provide immediate information on crime, terrorism, natural disasters, or severe weather that can threaten the safety of families and communities. For more information, visit http://www.AlertID.com.