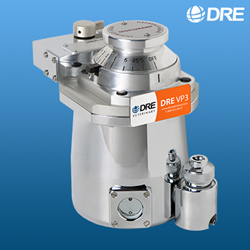 "DRE's number one goal is to provide our customers with whatever equipment they need to best benefit their practices." - Nathan Claypool, DRE Veterinary
Louisville, KY (PRWEB) March 26, 2014
DRE Veterinary — a new and professionally refurbished equipment supplier — is adding a new TEC 3-type anesthesia vaporizer to its wide selection of durable anesthesia vaporizers.
The DRE VP3 Veterinary Anesthesia Vaporizer is easy to use and made out of quality materials.
Veterinarians and technicians can easily identify different drug types during procedures with the DRE VP3's color-coded indicators. The device also features a compact wicker system for increased drug capacity.
The VP3 is constructed of lightweight aluminum, making it easy for veterinarians to set up and use the vaporizer. The strong aluminum body also features a one-piece sump for increased durability and longevity.
Nathan Claypool, director of DRE Veterinary Health and Animal Sciences, said the new DRE VP3 Veterinary Anesthesia Vaporizer is just one of the many options DRE offers to customers.
"We're excited to add the DRE VP3 to our line-up of high-quality vaporizers," Claypool said. "DRE's number one goal is to provide our customers with whatever equipment they need to best benefit their practices."
The DRE VP3 Veterinary Anesthesia Vaporizer is available in both select a tec and cagemount formations.
The company is also committed to helping customers make the product last as long as possible by providing routine vaporizer cleaning and calibrating services.
DRE has 20 years of experience cleaning and calibrating vaporizers. Technicians are trained to expertly service vaporizers to maximize long-term performance.
DRE technicians don't just check the vaporizer's output. They take apart the device in DRE's lab to check and change internal components. And they do it with a quick turnaround time and a fair price tag.
Click here for more information on DRE Veterinary's new and refurbished anesthesia vaporizers, as well as information on the company's vaporizer cleaning and calibration services.
About DRE Veterinary
For over 25 years, DRE Veterinary has worked with many of North America's top veterinary facilities and organizations. They provide products and services that make sense, save their client's time and money, and allow veterinary surgeons to do the things they do best. DRE Veterinary is located in Louisville, Ky.