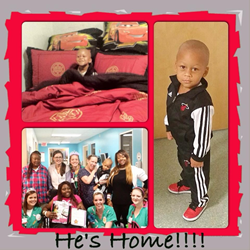 The Handtevy Pediatric Box is an extremely valuable addition to our units, and surely the best possible tool to assist in critical pediatric patient care
Miami, Florida (PRWEB) April 24, 2014
Two-year-old Alejandro was found lifeless, floating in a backyard pool by his mother in March. Miami-Dade Fire Rescue paramedics arrived on scene with a new pediatric resuscitation system implemented by Miami-Dade County only two months earlier. Unlike the prior system used by the department, the Handtevy Pediatric Box allowed Lt. Tammy Napoles to perform life saving measures on scene confidently and efficiently at the poolside rather than in the back of the ambulance at high rates of speed. The American Heart Association reported that 94% of children who sustain a cardiac arrest out-of-hospital will not survive; a statistic that has not changed in over 30 years (Reference). Alejandro fortunately made a full neurological recovery due in large part to the rapid, high quality care provided by Miami-Dade Fire Rescue (R-38). In a letter to Fire Chief David Downey, Lt. Tammy Napoles wrote, "I truly believe a large part of our success was due to the time saved using the Handtevy Pediatric Box."
Why such poor outcomes in pediatric out-of-hospital arrest? A collaborative research team led by the Children's Hospital and Clinics of Minnesota submitted new data for publication which exposes a significant gap in epinephrine administration for out-of-hospital cardiac arrest in the pediatric population compared to adults (31% vs 80%)(Abstract). This significant disparity in epinephrine administration may explain the poor outcomes seen in pediatric cardiac arrest over the last 30 years.
About the Handtevy Pediatric Box
The Handtevy Pediatric Box is an innovative pediatric resuscitation system created by the founder of Pediatric Emergency Standards, Inc., Peter Antevy MD. As an EMS Medical Director and Pediatric Emergency Physician, Dr. Antevy recognized that contrary to their adult patients, paramedics feared treating children on scene and often chose to "load-and-go" instead. He understood that resuscitation quality greatly diminished in the back of a moving vehicle and that the precious minutes lost during transport were detrimental to patient outcomes. Using his background and expertise in pediatric emergency medicine, Dr. Antevy was able to develop a system that facilitates rapid and high quality on-scene care, specifically for those children in cardiac arrest.
The system is now being used in Miami as well as in other cities throughout the United States since it was made available just over a year ago.