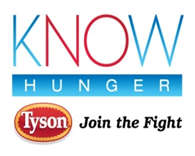 Milwaukee, WI (PRWEB) March 25, 2014
Who: Representatives from the League of United Latin American Citizens (LULAC), Tyson Foods Inc., Feeding America Eastern Wisconsin, UMOS Inc., Racine County Food Bank, Waukesha Food Pantry, and Shalom Center.
What: Tyson Foods and LULAC have partnered to donate more than 31,000 pounds of food to area food banks.
When: Friday, March 28, 2014 at 9:30 A.M.
Where: UMOS Corporate Office, 2701 S. Chase Avenue, Milwaukee, WI 53207
Why: The event is significant because:

573,800 people in Wisconsin rely on food from Feeding America food banks each year 37% of whom are children under the age of 18 and 7% are senior citizens.
According to Hunger in Wisconsin 2010, 72% of pantries, 60% of soup kitchens and 64% of shelters say they're serving more clients than they did in 2006.
Hunger in Wisconsin 2010 reveals that 71% of households with children seeking food assistance are food insecure, meaning they don't have adequate access to nutritious food.
Among households with school-age children, 59% participate in the federal school lunch program and 46% participate in the federal school breakfast program.
Headquartered in Washington, DC, with over 1000 councils around the United States and Puerto Rico, LULAC continues to mobilize grassroots networks of Latino community advocates to raise awareness on nutrition disparities and works to remove obstacles that hinder access to healthy and affordable foods.
Tyson Foods has donated more than 95 million pounds of protein since 2000.
CONTACTS:
Paloma Zuleta, League of United Latin American Citizens, pzuleta(at)lulac(dot)org, 202-812-4477
Gina Styer, Feeding America Eastern Wisconsin, gstyer(at)feedingamericawi(dot)org, 414-856-6638
Krista Cupp, Tyson Foods, krista(dot)cupp(at)tyson(dot)com