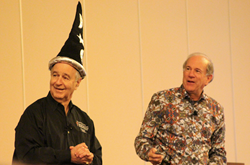 "Not only is T3 the place to be to learn about the latest and greatest in technology solutions for financial advisors, but attendees are also shaping the future by speaking directly to developers and expressing technological needs," said Drucker.
Anaheim, CA (PRWEB) March 26, 2014
Joel Bruckenstein and David Drucker, producers of the "T3" Technology Tools for Today™ Conference (T3), today announced highlights of 2014 T3 Advisor conference and plans for the 2015 T3 Advisor conference. Held February 10 – 12 at the Hilton Anaheim in Anaheim, Calif., the 2014 T3 Advisor conference attracted 650 attendees and 86 sponsors. This record-high attendance, up from 600 professionals and 75 sponsors in 2013, shows the industry's growing interest in technology solutions and related education.
"Our continued attendance growth year-over-year demonstrates that the T3 Conference is addressing a need for financial professionals across the country," said Drucker. "Not only is T3 the place to be to learn about the latest and greatest in technology solutions for financial advisors, but attendees are also shaping the future by speaking directly to developers and expressing technological needs."
"T3 is a unique conference," said Daniel Satchkov, President of RiXtrema Inc., a thought leader in the field of portfolio stress testing and tail risk. "This was our first year of sponsorship participation at T3. Not only we were able to connect with the most technologically savvy advisors, but we met virtually every large technology provider. There is no other place where such a unique and diverse group of experts and users of advisor technology can be found."
Eric Clarke, CEO and President of Orion Advisor Services, LLC, a portfolio accounting system and service bureau, has participated as a T3 sponsor for many years. "The T3 conference provides advisors with unparalleled access to leading technologies developed specifically for advisors. T3 is the industry go-to conference allowing advisors to stay on the cutting edge," Clarke said.
CONFERENCE HIGHLIGHTS AND BANDWIDTH HOGS
Highlights of the ninth annual T3 Advisor Conference:

A keynote from LPL's Managing Director and Chief Information Officer Victor Fetter, who delivered a talk entitled "Technology: Enhancing Advisors' Business. Enabling Investors' Dreams," which addressed the ways professionals can use technology to unlock value for clients and the ways technology can be used to deliver client solutions that make a difference.
The much anticipated general session panel "Custodian Thought Leaders on The Future of Advisor Technology," featuring a veritable who's who of custodian thought leaders including Neesha Haithi, Senior Vice President, Advisor Technology Solutions at Charles Schwab; Edward O'Brien, Senior Vice President, Technology Product Management at Fidelity Investments; Jon Patullo, Managing Director, Technology Product Management at TD Ameritrade; and Ram Nagappan, Chief Information Officer at Pershing.
J.D. Bruce, President of Abacus Wealth Partners, LLC, delivered a session, "Getting to a Billion" that discussed the ways proper technology infrastructure can help advisors get to $1 billion in assets under management.
In a packed general session that got everybody both thinking and laughing, Bob Curtis, President and CEO of MoneyGuidePro, a client-centered financial planning and retirement planning software, interviewed a wacky robot in a cheap silver suit. Harold Evensky, President of Evensky & Katz Wealth Management (Evensky is also an
Adjunct Professor at Texas Tech University), put on his wizard hat to offer some predictions about the financial planning industry, including the robo-adviser threat.
Other high points included the sessions "What's New in Rebalancing," "What's New in Portfolio Management," and panels on emerging technology, integrating tablets into one's practice and a Mac vs. PC panel.
"Despite having negotiated significant bandwidth for the event, when all the vendors loaded up their software tools for the pre-conference session and the exhibit hall setup, the hotel routers were so overwhelmed they went offline altogether, forcing most of the exhibit hall time at the opening reception to be spent with advisors and their tech vendors actually talking to each other face to face without the assistance of computers (oh, the horror!)," said industry influential Michael Kitces in his Nerd's Eye View blog post about the T3 conference. "Fortunately, the Internet was fully functional again by the 2nd morning (the actual conference kick-off), and notwithstanding the pre-conference Internet snafu and the weather-challenged wrap-up, this year's T3 conference was still a strong event as always," Kitces said.
The full conference agenda is available here: http://tinyurl.com/T32014AdvisorAgenda.
BIG ANNOUNCEMENTS AT #T32014
T3 has also become a space where technology companies time announcements of new products, services, and business deals to coincide with the conference. This year, more than a dozen companies made announcements at the conference. For example: SEI Advisor Network, Redtail, MoneyGuidePro and ActiFi announced an integration deal; Pershing announced its next generation online platform NetXInvestor; Digital Fortress Suite and Dr. David Lawrence unveiled a new study on the pros and cons of using various social media tools; Envestnet announced enhancements to its platform; Wealthbox social CRM officially launched; and MoneyGuidePro announced that they would be partnering with Yodlee. A more complete listing of big announcements from the conference can be seen at http://www.technologytoolsfortoday.com/blog.
INVESTING IN THE NEXT GENERATION OF FINANCIAL ADVISORS
While T3 is certainly focused on technology solutions, the conference also seeks to take a leadership and mentoring position within the industry. New at the 2014 T3 Advisor conference were the FAStech Cup, a competition designed to help financial planning students learn key advisor technology tools, and the FAStech Quiz Bowl, a game-show-style session where students tested their knowledge in a fast-paced setting. Students in the competition submitted a MoneyGuidePro software-built hypothetical financial plan and built a modern website for a hypothetical advisory firm, which included video clips that illustrated key concepts. The students of William Patterson University won the FAStech Quiz Bowl; in addition, as the grand-prize winners of the FAStech Cup, the William Patterson financial planning program received a $5,000 award.
"As we continue to think about cutting-edge technology tools for advisors, we also want to keep an eye on nurturing cutting-edge talent," said Bruckenstein. "The FAStech Cup and Quiz Bowl creates engagement and nurtures the industry's tech-savvy, next generation of financial advisors."
#T32015 PLANS
Organizers are finalizing details for the tenth annual T3 Advisor conference, which will be held February 11-13, 2015 at the Hilton Anatole in Dallas. Conference details will be available on the T3 website. Several lead sponsors from prior years have already renewed their contracts while other top-tier technology companies have expressed new interest.
In addition, watch for an announcement regarding the second annual "T3 Enterprise Edition conference developed specifically for institutional buyers. "This will be a smaller conference with maybe 40 sponsors, versus the 86 we had this year at T3 2014 advisor event," Drucker said. "We'll be inviting a select group of broker/dealer executives and national RIAs to attend in an effort to help them find the right resources for their firms," Drucker said.
ABOUT T3 AND THE TECHNOLOGY TOOLS FOR TODAY CONFERENCES
Since its inception in 2006, the annual "T3" Technology Tools for Today Conference (T3) has been the only annual conference devoted exclusively to the technology and practice management needs of independent financial advisors. Co-chaired by the experienced team of Joel Bruckenstein and David Drucker, the T3 conference brings together the nation's leading technologists, advisors, consultants and technology vendors to discuss technology developments that impact financial advisors.
For conference information, visit http://www.TechnologyToolsForToday.com. Get breaking news by following @t3fan @daviddrucker and @fintechie on http://www.Twitter.com.
###