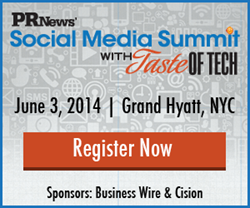 New York, NY (PRWEB) March 25, 2014
PR News has programmed a unique one-day event in New York that combines social media, technology and delicious food. The Social Media Summit with Taste of Tech on June 3 will connect communicators with the latest technology and tools to help them create successful campaigns and communications initiatives, and with digital communications leaders who will share the latest best practices in using the social media networks that matter most to their organizations and clients.
This full-day event will be held on June 3 at the Grand Hyatt in New York City.
Two kinds of cravings will be met at the Social Media Summit with Taste of Tech-- the need for answers to questions about the tools and technology that are best suited to communicators' PR programs and a full serving of social media best practices from digital leaders.
At this how-to-focused annual event, attendees will learn from and network with the brightest minds in social media, from a broad range of organizations—b2c, b2b and nonprofit organizations. Speakers include: Kevin Dando, senior director, digital marketing & communications, PBS; Susan Emerick, manager of enterprise social strategy & programs, IBM; Lauren Friedman, head of social business engagement, Adobe; KC Geen, senior manager, social media, GrubHub Seamless; Mary Grady, managing director, media and public relations, Los Angeles World Airports; Jeff Petriello, producer/creative, Mashable.
These digital strategists will share insights, case studies and practical tips on how to leverage Facebook to tell your brand's story, develop relationships with key influencers in your market on Twitter, establish your brand on Pinterest and connect with its passionate user base, advance your career and connect with media professionals on LinkedIn, apply the latest SEO tactics and measure the results of your social media efforts to prove ROI.
The day before the conference, PR News will host a morning SEO Workshop followed by its annual Social Media Icon Awards Luncheon. All three events will take place at the Grand Hyatt New York.
For more information or to register online, visit http://www.socialmediaconf2014.com/.
Thanks to Our Sponsors: Business Wire and Cision.
PR News has partnered with commPRO.biz on the sponsorship relations for the conference. Contact Fay Shapiro, publisher, commPRO.biz, fays(at)commpro(dot)biz; 212-213-3039 for sponsorship opportunities.
For information about the PR News conference, please contact Laura Snitkovskiy, senior marketing manager, PR News at laura(at)accessintel(dot)com.
ABOUT PR NEWS: PR News is a daily intellectual hub that serves the communications and marketing community at corporations, agencies and nonprofits. For more information, please visit http://www.prnewsonline.com.
###