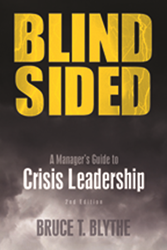 "Takes readers through some of the toughest moments in the life of a leader. It's these moments that create legendary leaders or cut short a promising career."— Dr. Daniel Diermeier, Professor, Kellogg School of Management, Northwestern University
Brookfield, CT (PRWEB) March 31, 2014
We've all seen it: exceptional managers during normal times suddenly stumble and fail – often very publicly - when blindsided by crisis.
According to Bruce Blythe, crisis is an ultimate test of leadership. It demands more than the skilled protection of corporate assets. It demands leaders who inspire loyalty and trust – primarily through their demonstrated care for the needs of people. In his new expanded edition of Blindsided: A Manager's Guide to Crisis Leadership, published by Rothstein Publishing, Blythe shows what it takes to be an effective and humane strategic crisis leader, a "crisis whisperer."
While some books show how to create a crisis preparedness plan and others how to respond to a crisis as it takes place, Blythe does both. The first seven chapters immerse readers in a riveting simulation of how it looks and feels and sounds to respond to every twist and turn in an unfolding disaster. Grounded in this realism, and equipped with eight chapters of field-tested how-to's, readers are better prepared to develop and deliver a real-world crisis management program and written plan.
Dr. Daniel Diermeier, Professor at Northwestern University's Kellogg School of Management, comments, "Executives have no shortage of advice [but] Bruce Blythe's book is different. It's packed with practically useful advice, covers virtually any type of crisis a company can encounter, and is filled with useful checklists and concrete steps. In short, what we have here is a step-by-step guide to process excellence."
A widely acclaimed crisis management expert - who's also an executive coach and clinical psychologist - Blythe pulls up a chair and coaches managers through every step in effectively managing a breaking crisis. On the response side, he details how to set up teams, command centers, crisis containment, effective communication, reputation management, and how to rebuild the spirit, cohesion, and productivity of employees in the post-crisis "new normal." Under crisis preparedness he shows how to analyze foreseeable risks, evaluate existing controls, add new ones, and write, test and re-evaluate a crisis preparedness plan. He uses real-life examples of what has worked - and not worked - in 30 years of experience with hundreds of companies worldwide.
Blythe's "take-and-use" tools include:
•Quick Use Response Guide for each chapter – 15 take-and-use summary checklists to make sure you've covered all the bases. Use these in print, or on mobile, for a handy on the run pocket guide.
•20-Page Guide for Addressing Families of the Injured – unique resource with practical steps to organize group gatherings, assistance plans, and family representative programs, including powerful, time-tested instructions for communicating the most tragic news with empathy and dignity.
•Incident Checklists for 9 major crises – practical, specific, checklists for accidental deaths, aircraft crash, chemical/toxic exposure, civil unrest, earthquake, explosion/fire, flood, kidnap ransom, shooting, plus 20 other foreseeable risks.
•Case studies; real-life examples; discussion questions; index; and glossary with 100+ words and phrases used in crisis, business continuity, risk, emergency, disaster recovery, and reputation management.
Lyndon Bird, Technical Director of the Business Continuity Institute calls the new edition of this business classic "practical, down-to-earth advice in dealing with crises. It's an excellent book which outlines step-by-step procedures on how to manage crisis situations and minimize fallout on organizations while keeping a moral compass."
'Blindsided: A Manager's Guide to Crisis Leadership, 2nd Edition,' by Bruce T. Blythe is available from Amazon.com and other booksellers.
Bruce T. Blythe is an internationally acclaimed crisis management expert. He is the owner/chairman of three companies that provide employers with a continuum of crisis preparedness, crisis response, and employee return-to-work services. He has been personally involved in crises such as the Oklahoma City bombing, 9/11, commercial air crashes, Hurricanes Andrew and Katrina and other natural disasters, and reputational crises. He is an executive coach to Fortune managers and as a certified clinical psychologist has been a consultant to the FBI on workplace violence and terrorism. Widely regarded as a thought leader in the crisis management and business continuity professions, Blythe has appeared on numerous TV/cable news programs and provides commentary in major business media. He is a keynote speaker at 50 national and international conferences per year.
Rothstein Publishing is a premier source of books and learning materials in Business Continuity, Disaster Recovery, and Emergency, Risk, and Crisis Management. Industry-leading authors provide current, actionable knowledge, solutions, and tools that can be put into practice immediately. The company's commitment is to teach organizations how to be ready and able to protect, preserve and recover their most important assets: people, facilities, finances, and reputation. http://www.rothsteinpublishing.com