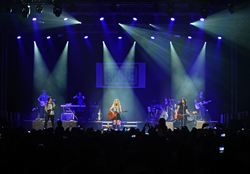 Wherever we are around the world, our nation's troops and military families are never far from our thoughts and prayers," said Kimberly Perry of The Band Perry.
Arlington, VA (PRWEB) March 25, 2014
Twitter Pitch: @thebandperry celebrates troops with @the_USO visit to @48FighterWing!
Grammy ® nominated country music group The Band Perry celebrated St. Patrick's Day 2014 by making a USO/Armed Forces Entertainment visit to Royal Air Force Lakenheath in the United Kingdom. This trip marked the first USO visit for the award-winning family
trio, who spent the day talking with troops, touring a military unit and performing a free USO show for Airmen and their families.
***USO photo link below***
DETAILS:

In total, The Band Perry visited and entertained approximately 1,000 military families as part of their moment-filled USO holiday visit to the U.K. on Mar. 17, 2014.
Prior to hitting the stage and rocking out with troops, The Band Perry visited the 56th Rescue Squadron and learned about combat-ready search and rescue operations and medical evacuations.
Named the "favorite country music band" of top male solo artist Blake Shelton, The Band Perry has been singing and performing since they could walk, and have gone on to win scores of awards. The group is best known for their quadruple-platinum song "If I Die Young" as well as the hits "All Your Life," "You Lie," "Better Dig Two," and "DONE." among others. The band, who is up for "Vocal Group of the Year" and "Video of the Year" at the 2014 ACM Awards on April 6, are currently serving as Shelton's musical advisors on Season Six of NBC's reality hit "The Voice," following previous guest mentors Michael Bublé, Cher, Sheryl Crow and Kelly Clarkson.
The superstar sibling trio recently wrapped their first headline tour, the WE ARE PIONEERS WORLD TOUR.
The Band Perry is a supporter of America's armed forces and is scheduled to perform during the upcoming "ACM Presents: An All-Star Salute To The Troops," set to air on May 20 on CBS. The concert was created to honor our nation's servicemen and women, and their families.
QUOTES:
Attributed to Kimberly Perry of The Band Perry:
"Wherever we are around the world, our nation's troops and military families are never far from our thoughts and prayers."
Attributed to Reid Perry of The Band Perry:
"The dedication and sacrifice of these service members mean the world to each of us, and are the reason we are able to live out our dreams today."
Attributed to Neil Perry of The Band Perry:
"We can't thank the USO and the Lakenheath Air Force community enough for everything they do for us and our troops every day. We were honored to visit with them."
MULTI-MEDIA:
USO Tour Photos: http://bit.ly/1kPllbK
###
About the USO
The USO lifts the spirits of America's troops and their families millions of times each year at hundreds of places worldwide. We provide a touch of home through centers at airports and military bases in the U.S. and abroad, top quality entertainment and innovative programs and services. We also provide critical support to those who need us most, including forward-deployed troops, military families, wounded warriors, troops in transition and families of the fallen. The USO is a private, non-profit organization, not a government agency. Our programs and services are made possible by the American people, support of our corporate partners and the dedication of our volunteers and staff.
In addition to individual donors and corporate sponsors, the USO is supported by President's Circle Partners: American Airlines, AT&T, BNSF Railway, The Coca-Cola Company, Grand Canyon University, JCPenney, Jeep, Kroger, Northrop Grumman Corporation and TriWest Healthcare Alliance and Worldwide Strategic Partners: BAE Systems, BIC, The Boeing Company, ConAgra Foods, FedEx, Lockheed Martin, Microsoft Corporation, Procter & Gamble, TKS Telepost Kabel-Service Kaiserslautern GmbH & Co. KG and Wawa Inc. We are also supported through the United Way and Combined Federal Campaign (CFC-11381). To join us in this patriotic mission, and to learn more about the USO, please visit uso.org.
About The Band Perry
The Band Perry has ascended to dizzying heights since releasing their self-titled debut album on Republic Nashville in 2010, which scored the sibling trio a string of hits, including the quadruple-platinum "If I Die Young" (#1 on Billboard's Country and AC charts), platinum "You Lie" and gold "All Your Life" (#1 Country). Fronted by Kimberly Perry and rounded out by her younger brothers Reid and Neil, the band has amassed over 11.2 million tracks sold from their platinum debut and gold sophomore release PIONEER, which debuted at #1 on the Billboard Country Albums Chart and #2 All Genre. In addition to acclaim from top critics across the country, PIONEER has produced two consecutive #1 Country smashes – the platinum "Better Dig Two" and gold "DONE." – which earned Reid and Neil their first chart–topper as songwriters. Their current single, "Chainsaw," was released in March and promises to be another big hit for the band. The Band Perry has also enjoyed sold–out headlining dates and recently finished their first global headline tour, the WE ARE PIONEERS World Tour. This summer, The Band Perry will hit the road with Blake Shelton on his Ten Times Crazier Tour, and they recently joined Blake as the guest advisors for his team during Season 6 of "The Voice." In the past year, The Band Perry has taken over the American television airwaves with unforgettable performances on the ACM, CMA, Grammy and Billboard Music Awards as well as American Idol, Good Morning America, The Today Show, Ellen, The Talk, The Arsenio Hall Show, The Tonight Show with Jay Leno and The Late Show with David Letterman. They also appeared on a banner episode of "CMT Crossroads" with rockers Fall Out Boy and performed as part of the Super Bowl XLVIII NFL Tailgate Party on Fox. They are currently nominated for two ACM Awards, "Vocal Group of the Year" and "Video of the Year," airing on CBS April 6. Their showering of honors include multiple ACM, CMA, ACA and CMT Music Awards, as well as GRAMMY, Teen Choice, AMA, and Billboard Music Award nominations, all of which has cemented the sibling trio as one of the hottest acts in recent history. For a list of all tour dates and more, visit thebandperry.com / thefansperry.com.