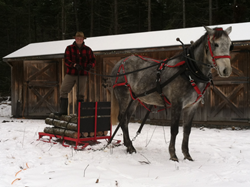 Why should a student make the sacrifices associated with sustainability, if their professor is going to drive home in a gas-guzzler, eat genetically modified food, and live in a house that's made with toxic materials?
Paul Smiths, NY (PRWEB) March 26, 2014
Paul Smith's College (PSC) isn't your typical four-year university, and Associate Professor Brett McLeod isn't your typical lecturer. McLeod lives on a 25 acre homestead where he raises roughly 50 percent of the food he consumes. He prefers use of horses and hand tools for the majority of his work, heats his home with wood, owns a flock of chickens and depends on the camaraderie of neighbors for bartering, car pooling and sharing chores like making maple syrup. This Spring, McLeod shines the spotlight on the importance of sustainability by setting an example for his students, PSC faculty and the community.
McLeod takes environmental sustainability very seriously, and has chosen to make his life's work; both in the classroom and by his way of life. Regarded as an environmental sanctuary, the wilderness-nestled Paul Smith's College is dedicated to hands-on learning initiatives and McLeod surely leads by example.
"Why should I expect my students to listen to me lecture on issues of sustainability if I'm not walking the talk? Why should a student make the sacrifices associated with sustainability, if their professor is going to drive home in a gas-guzzler, eat genetically modified food, and live in a house that's made with toxic materials," McLeod asked with conviction.
McLeod doesn't simply preach to the choir, instead he inspires.
"I suppose I've never seen my teaching (or coaching or anything else that I do) as being separate from the rest of my life. This blending is probably a result of having good mentors along the way who have told me things like, 'pick your lifestyle, not your job,' or 'pick a career you love and you'll never have to work a day of your life.' Slightly cliché, but certainly true," he explains.
Almost everything is more time consuming for sure, but also more rewarding and of lower impact," McLeod says. "Also, I'm careful to make sure that my students don't interpret my lifestyle as pure, harmonious, or without impact. Indeed, I still have a garbage can and a car, and contribute to our global environmental crisis, but I also emphasize the idea that we must own the problem to craft an intelligent response that offers a positive contribution to society."
A few times a year, McLeod travels by horse the 16 mile journey from his home to the 6 million acre campus of Paul Smith's College, which is nestled in inside the Adirondack Park of upstate New York. This nearly 70-year-old four-year university is surrounded by breathtaking natural beauty, diverse wildlife and endless outdoor adventure.
"There is no better home for a true environmentalist (like me) than at Paul Smith's College. Students not only are receiving education of the highest caliber, but they are living and breathing what they learn in the classroom on this stunning campus," explains McLeod. "Environmental minded students have a plethora of Bachelor degrees they can pursue, from biology or environmental science to natural resource sustainability or fisheries and wildlife. The list goes on," says McLeod. "Sustainability is a campus-wide initiative at Paul Smith's College."
In addition to teaching forestry and sustainability courses, McLeod coaches the Paul Smith's Woodsmen's Team. The team has been in existence since 1955 and practices a variety of old-time lumberjack skills as part of competitive intercollegiate competition.
"The skills the students learn have largely been lost in America. There was once a time when proficiency with an axe was as common as proficient Tweeting or texting is today (if texting is even a skill). My goal is to make sure this knowledge doesn't get lost and finds new currency."
About Paul Smith's College:
Paul Smith's College was founded in 1946 and is the only four-year college in the Adirondacks. The college provides an experiential learning environment, with an interdisciplinary core curriculum and undergraduate programs in forestry, natural resources and recreation; hospitality, resort and culinary management; and the sciences, liberal arts, and business. Paul Smith's College community, residing in the Adirondack Park, promotes economic, social, and environmental sustainability.
For more information please visit http://www.paulsmiths.edu.