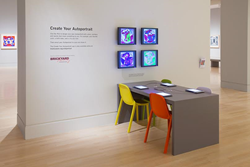 "Through the app, it's a fun thing to do, but it's a way to help understand the process the artist went through to create the autoprotrait." - Silvia Filippini Fantoni, director of interpretation, media and evaluation at the Indianapolis Museum of Art
Indianapolis, Indiana (PRWEB) March 25, 2014
For patrons of the Indiana Museum of Art, a new exhibition about acclaimed artist Robert Indiana can be enjoyed by becoming like the artist himself. Fans of Robert Indiana's famous autoportraits can now create their own using colors, words and numbers of their choosing. The app, a partnership between Brickyard Marketing and the Indianapolis Museum of Art, hopes to give the public an insight into how such an acclaimed artist puts so much of himself into his work.
"We wanted to show how autobiographical his work is – the numbers, the words, the colors, the shapes, they all have meaning," says Silvia Filippini Fantoni,
director of interpretation, media and evaluation at the Indianapolis Museum of Art. "We want people to learn by doing. They can use the app to express their own symbolism and, by doing it themselves, gain better understanding of the artist's creative process."
For Brickyard Marketing, being able to work with such an acclaimed artist with a rich Indiana heritage was important to Brickyard's CEO, Chris Yano, who is an Indiana native himself. "We want to be a part of Indiana history and give back to the state of Indiana with an app that people everywhere can enjoy," says Chris Yano. "With the Robert Indiana Autoportraits app, even people who unfortunately can't make it to Indiana for the exhibit can still be a part of the experience."
The app can be found by visiting http://www.imamuseum.org/autoportrait. The Essential Robert Indiana exhibit is on view through May 4, 2014 at the Indianapolis Museum of Art located at 4000 Michigan Road. The IMA is open Tuesday through Saturday, 11 a.m. to 5 p.m.; Thursday, 11 a.m. to 9 p.m.; and Sunday, noon to 5 p.m.
About Brickyard Marketing
Brickyard Internet Marketing (BIM) is a full-service nationwide Internet marketing company specializing in search engine optimization, web design, and app development. BIM has more than 15 years of total experience in Internet marketing and advertising with offices in Indianapolis, Indiana and Phoenix, Arizona. The company was initially manifested to help small business owners perfect their Internet marketing strategies while saving as much money as possible. Over the years, BIM has been sought out by nationally recognized corporations, thus evolving into a full-service Internet marketing firm working with everyone from locally-owned businesses to Fortune 30 companies.
For more information, call 877.484.9988 or visit brickyardmarketing.com.
About the Indianapolis Museum of Art
Founded in 1883, the Indianapolis Museum of Art serves the creative interests of its communities by fostering exploration of arts, design and the natural environment. Encompassing 152 acres of gardens and grounds, the IMA is among the 10 oldest and 10 largest encyclopedic art museums in the United States and features significant collections of African, American, Asian, European, contemporary art and design arts that spans 5,000 years of history. Additionally, art, design, and nature are featured at The Virginia B. Fairbanks Art & Nature Park: 100 Acres, Oldfields–Lilly House and Gardens, a historic Country Place Era estate and National Historic Landmark on the IMA grounds and the Miller House and Garden in Columbus, Indiana, one of the country's most highly regarded examples of mid-century Modernist residences. For more information visit http://www.imamuseum.org.