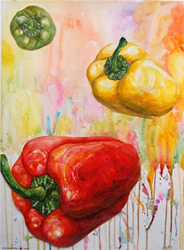 Congers, New York (PRWEB) March 27, 2014
Under the guidance of Art Department Chair Michele Sommer, Rockland Country Day School students have achieved success in honing their creative talents for many years. RCDS students have received numerous awards in local and regional competitions, then gone to college where they continued to pursue their artistic passion – some making it a lifelong career.
At the 2014 Northeast Regional Scholastic Art Awards Competition this January, the works of Seung Yeon Kim were in the spotlight. Her signature piece titled "Emotions" received a Gold Key award and will advance to the national level of the competition. In addition, she received an Honorable Mention and a Silver Key Award for two other works. The Scholastic Art & Writing Awards program is intended to provide students with opportunities for recognition, exhibition, publication and scholarships. This program has identified early talent since its inception in 1923, and has had a positive impact on many young artists' ability to see themselves as serious artists.
At Rockland Country Day School we continue to applaud the talent of Seung Yeon Kim and we are thrilled that she is being recognized in this prestigious competition.
About Rockland Country Day School: Rockland Country Day School brings forth the best in every student by knowing and educating each of them as an individual. The pillars of our college preparatory program are critical thinking, creative expression, and the cherishing of diversity. Our unique environment enables every child to thrive, both academically and socially. For more information or to register please visit http://www.rocklandcds.org or call us at 845-268-6802.