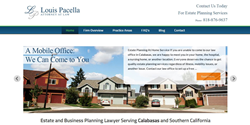 Calabasas, CA (PRWEB) June 30, 2014
Louis Pacella, Attorney at Law, is pleased to announce the launch of their new website http://www.AtHomePlanning.com. The new website has information on the practice areas they offer, which include; Estate Planning, Business Formation & Planning, Medi-Cal Planning, and Trust Administration & Litigation.
The new site clearly lays out the firm's overview of the company to ensure that potential clients know they are working with an experienced lawyer. His team is willing to take the extra step to meet with clients in their homes or at a location of their preference to work around their busy schedules.
With this firm, clients can expect personalization, experience, and convenience.
Changes in life are inevitable. The key is being ready for these changes when they occur. It is important to work with a Calabasas estate planning lawyer who understands each client's situation and goals, while bringing the shared knowledge of estate and business planning to avoid these issues in the future. This will bring clients peace of mind knowing their families and businesses are protected.
Pacella respects and values his clients' time and businesses. His team is committed to providing the highest level of legal service possible. They know the importance of making every client feel valued by combining experienced legal counsel with the comfort and service each client deserves. This is why the backbone of their approach is based on experience in family law planning combined with competitive rates and a dedication to their clients.
About Louis Pacella, Attorney at Law:
Louis Pacella is an estate planning attorney based in Calabasas, CA. The company has 10 years experience in Estate Planning, Business Formation and Planning, and 7 years experience with Medi-Cal Planning and Trust Administration and Litigation. For a free initial in-home consultation with business and estate planning attorney Louis Pacella, please call (818) 876-9637 or visit http://www.AtHomePlanning.com.