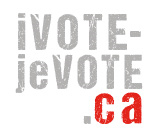 It was paramount to have a web-based solution that was cost effective, rapidly deployed and easy to use. QuickSilk's website development and content management system satisfied all of our requirements
Ottawa, ON (PRWEB) March 26, 2014
QuickSilk is pleased to announce the recent launch of the iVote-jeVote website, a youth democratic engagement event website with the express goal of bringing together Canada's national political leaders to challenge them to motivate youth to get involved in the political process. The iVote-jeVote website is sponsored by the Jean-Luc Pepin (JLP) Research Chair, Faculty of Social Sciences, at the University of Ottawa.
Sahir Khan of uOttawa's JLP Research Chair said: "We were very pleased to work with Quicksilk on this important initiative. Because of the limited time available to launch the website, it was paramount to have a web-based solution that was cost effective, rapidly deployed and easy to use. QuickSilk's website development and content management system satisfied all of our requirements. He added : "Perhaps, we are most proud of the fact that the process was managed entirely by the JLP's undergraduate army of student volunteers."
"We are very excited to work with the Jean-Luc Pepin Research Chair, and JLP's student volunteers, on such an important national youth initiative", stated Garry Brownrigg, President & CEO of QuickSilk. "Including the development of two custom plug-ins, we were able to integrate a custom design, build, populate the content and deploy the iVote-jeVote website in less than 30 hours, using our proprietary Software as a Service (SaaS) solutions. Going forward, JLP's student volunteers can now self manage all aspects of their iVote-jeVote website".
For more information please visit the iVote-jeVote.ca website.
About QuickSilk
Quicksilk is a customer-centric provider of high quality, professional and feature rich Software as a Service (SaaS) solution sets. QuickSilk's products, services and web-based applications have been deployed successfully throughout North America and Europe, on time and on budget, since 2001. QuickSilk is located in Ottawa, ON, Canada. Website: http://www.quicksilk.com
Quicksilk reserves the right to alter product offerings and specifications at any time without notice and is not responsible for typographical or graphical errors that may appear in this news release.
Quicksilk™ and Spin The Web. Your Way™ are registered trademarks of QuickSilk Inc.
About Jean-Luc Pepin Research Chair
The Jean-Luc Pepin Research Chair (JLP) was established in memory of its namesake's dedication to Canadian politics as a practitioner and as a professor. The JLP Research Chair is engaged in the study of Canadian political institutions and their transformation in light of the changing conditions and practices of contemporary democratic governance. The Jean-Luc Pepin Research Chair seeks to be a world-class and independent centre-of-excellence in public finance and democratic governance in Canada and abroad. The chair fulfills its mission by harnessing the value that comes from integrating teaching, research, advising and engagement (http://www.jlp.uOttawa.ca).
Press Contacts
QuickSilk
Garry Brownrigg
President & CEO
613-270-1478 x114
press(at)quicksilk(dot)com
Jean-Luc Pepin Research Chair
Sahir Khan
Professionnel en résidence invité| Visiting Senior Fellow
Faculté des Sciences sociales | Faculty of Social Sciences
Université d'Ottawa | University of Ottawa
613 562 5800 x7176
sahir.khan(at)uottawa(dot)ca