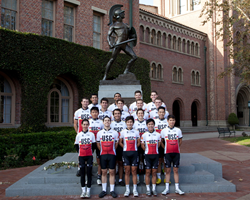 Santa Monica, CA (PRWEB) March 26, 2014
Spinlister, the world leader in peer-to-peer bicycle, ski, and snowboard rentals announced today that they have become official sponsors of the University of Southern California Cycling Team. The USC Cycling Team is a co-ed collegiate club sport team, with about 25 members, that competes in various road and mountain bike races in the Western Collegiate Cycling Conference.
When asked how Spinlister will benefit the USC Cycling Team with their busy season, President John Tromlinson replied, "Connectivity is the biggest tool. Product and money any company can provide, but the mission and connectivity that we share with Spinlister is the biggest asset to us."
Each semester the USC Cycling Team must turn away 5-15 interested students because of a lack of bicycles. Spinlister is thrilled to be able to help grow membership by providing a platform for members to rent bicycles for practice and races. "I believe Spinlister will not only benefit the Cycling Team but also the entire USC student body. Spinlister provides a low cost opportunity for students to try something new that typically has a large cost barrier involved. It also promotes a healthy outdoor lifestyle," says Tromlinson
In 2013 the USC Cycling Team won both the Road Race and Criterium in the Men's A Category at Conference Championships and they hope to do just as well this year. Spinlister wishes the USC Cycling Team luck as they prepare for the 2014 Conference Championships in Fresno, CA on April 26.
If you want to learn more about how to rent or list a bike on Spinlister please visit http://www.spinlister.com.
About Spinlister:
Launched on April 1st 2012, Spinlister is an online marketplace that allows users to rent and list bicycles, skis, and snowboards in over 100 countries worldwide. With built-in security features and a database of user reviews. Spinlister has won the trust of communities of cyclists, skiers, and snowboarders all over the world.