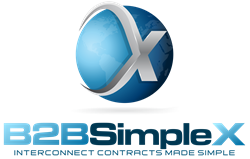 "B2BSimpleX platform's open, fluid architecture integrates easily and seamlessly to existing enterprise systems to ensure rich, robust, seamless communications across business units and operations."
Aachen, Germany (PRWEB) March 25, 2014
The solution addresses the carrier need for automated tools to manage complex interconnect agreements that require a specific set of conditions over and above the normal terms of business, such as the negotiation of credit limits and methods for arbitration and jurisdiction, among others. The new modules are intuitive and easily managed from a drop down menu that is editable, allowing users to freely define items for pre-negotiation. The added capabilities help facilitate the entire negotiation process – from agreement and implementation to contact management, including tools to measure profitability and performance.
"With the capability to rely on an automated, standardized and transparent platform to conduct, conclude and manage all areas of their carrier interconnect business, carriers will be able to shift priorities and resources to other business areas," said Michael Wallrath, Managing Director, Ascom Systems and Solutions.
B2BSimpleX Compatible with GBET, Carrier Collaboration
Ascom developed the B2BSimpleX Exchange in collaboration with the Global Business Exchange for Telecom (GBET) and many of the world's leading carriers to create a solution to automate interconnect processes and eliminate the reliance on manual processes, which contribute to lengthy and costly delays in implementing contracts, as well as data errors and ambiguities that can lead to legal disputes. The problem is so severe that The Yankee Group estimates that miscommunication and poor or lost data costs European and US carriers more than US $8 billion each year.
The B2BSimpleX solution enables carriers to electronically exchange, verify and finalize inter-carrier agreements far more quickly and with far less discrepancies. Intuitive user modules and workflows can be used to modify contracts, inform partners about price and destination changes, verify dial code lists and volumes, and exchange side letters. Advanced tools include the ability to model business cases, conduct 'what if' scenarios, analyze contract performance and measure profitability in real-time. Additional features include the ability to prepare financial statements (negotiate to bill), import and verify scanned invoice items, CDR reconciliation and automatic flagging and classification of discrepancies and recommended disputes.
ABOUT ASCOM
Ascom is a global leader of mission critical communications solutions, with subsidiaries in 17 countries and a workforce of more than 1,600 employees. Ascom's Business Unit Systems & Solutions provides innovative software and solutions for business and operations support. The service offering include consulting, planning, implementation, service support, as well as the complete operation of large-scale IT solutions.