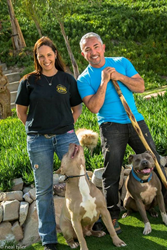 ...shelter animals are not broken or damaged; they are all individuals and should be treated as such.
Titusville, FL (PRWEB) March 25, 2014
Spring has sprung and it's time to step into gear and walk to help Brevard's homeless pets at the SPCA of Brevard's fifth annual Happy Tails Dog Stroll-A-Thon on Saturday, April 5th at Sand Point Park in Titusville. Participants can register online at http://www.spcabrevard.com and click on the events tab or stop by the SPCA Adoption Center at 455 Cheney Highway to pick up registration information.
The Stroll, sponsored by NexGard Chewables and Altman's Cooling and Heating, will benefit the SPCA's new adoption center remodeling project. Registration is free; there will be premiums for individual participants based on levels achieved and pack (team) participation is encouraged with a competition for the "Pack of the Year" title.
Registration and check-in starts at 9am and the Stroll-A-Thon begins at 10am. Vaccinated, socialized dogs on 6-foot or shorter leashes are welcome to this fun-for-the-family event! The leisurely stroll around Sand Point Park includes optional points such as a "show us your trick" station where your canine companion can show off his coolest trick to receive a treat and water stations, too. After the Stroll, stop by the Vendor Village where you will find food, merchandise, rescues with adoptable pets and a "Smooch Your Pooch" style photo booth. Back by popular demand...the Doggie Fun Zone, the amazing, thrilling and entertaining fun and run multi-dimensional lure-motivated obstacle course!
This year's Stroll Grand Marshall, Sonic, along with Paws for Veterans CEO/Lead Trainer Crystal Ayala, have recently made national headlines; Cesar Millan, known as "the Dog Whisperer", saved Sonic from death and selected Paws for Veterans to continue Sonic's training as a service dog for a Brevard County veteran in need.
"We are excited to have Crystal and Sonic leading this year's Stroll," says SPCA PR Director, Teri Scott. "Sonic is a perfect ambassador for bully breeds and for shelter dogs as a whole. He is going to be a lifeline for a deserving man or woman who served this country and he is a reminder that shelter animals are not broken or damaged; they are all individuals and should be treated as such."
For more information, contact Teri Scott at 321-267-8221 extension 246 or visit http://www.spcabrevard.com and click on the events tab.
Additional Resources:
SPCA of Brevard Rescue Statistics and Info:
https://eded586037d6cc325b86-99aec0929a4e9c234e8f07edc97680e7.ssl.cf2.rackcdn.com/spca_of_brevard_statistics_and_information_2-18-14_pdf-1394136772
Cesar Millan Foundation Story on Sonic: http://www.cesarsway.com/dog-rescue/millan-foundation/Salute-to-Sonic
Recent Local News Coverage on Paws for Veterans and Sonic:
http://www.mynews13.com/content/news/cfnews13/news/article.html/content/news/articles/cfn/2014/3/2/paws_for_veterans_tr.html
http://www.myfoxorlando.com/story/24963506/famous-dog-whisperer-cesar-milan-trains-rescue-dog-for-local-veteran
###
About SPCA of Brevard
The SPCA of Brevard, Inc. is a private, non-profit organization with the mission of "protecting and providing a voice to the homeless animals of Brevard County." Founded in 1979 in Titusville, Florida, the SPCA is the largest private no-kill animal rescue group in Brevard, finding homes for more than 1,300 animals a year. It is the first adoption facility with free-roaming cat rooms in the County, allowing adopters to interact with cats in a more home-like setting. The SPCA of North Brevard Clinic also provides reduced-price vaccines to the public and has performed more than 50,000 low-cost spay/neuter surgeries since 1999.
For more information, visit http://www.spcabrevard.com.