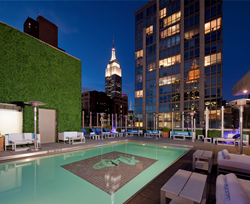 New York, NY (PRWEB) March 26, 2014
StyleHotels, a global hotel collection featuring over 6000 hotels in 1649 destinations, today unveils 'Style Up Your Stay' hotel offers with free VIP amenities and upgrades on reservations. Three chic destinations for spring and summer hotel deals are spotlighted on StyleHotels.com during the premier campaign: New York City, Prague and Barcelona.
Participating style-centric hotels are offering free 'Style Perks' to guests who book a reservation on StyleHotels.com. Most deals are available for booking through April 7th, with more deals coming soon. Complimentary 'Perks' are worth hundreds of dollars and range from an award-winning bottle of the Chef's favorite wine, to free room upgrades and dining discounts.
The popular travel destinations featured in StyleHotels' spring campaign showcase the luxury, boutique, urban-chic and lifestyle hotels that comprise the prestigious StyleHotels collection. New York hotel offers include perks from Gansevoort Park Avenue and Gansevoort Meatpacking. In Europe, the España Hotel and Condes de Barcelona offer hotel deals in Barcelona; the Aria Hotel, Pure White Hotel, and Kempinski Hybernska deliver welcoming Prague hotel offers and VIP perks for StyleHotels guests.
StyleHotels.com provides a hotel search, share and booking platform for travelers passionate about style and exclusive amenities. Currently, the website features New York hotel deals from the Gansevoort Park Avenue and Gansevoort Meatpacking hotels. StyleHotel guests may choose a free bottle of house wine or a bottle of Prosecco at check-in at either NYC location.
Prague hotel deals launching on StyleHotels.com this spring feature an exclusive Fruit & Wine welcome amenity at the Aria Hotel, a free upgrade to Superior room for all Standard and Executive rooms booked at the Pure White Hotel, and free room upgrade and complimentary welcome drink at the Kempinski Hybernska .
The boutique España Hotel and urban-chic Condes de Barcelona Hotel are offering attractive Barcelona hotel deals guaranteed to 'Style Up' a traveler's stay in Spain. A free room upgrade plus 10% discount off meals at the hotels' acclaimed restaurants, Loidi and Fonda Espana, are now offered exclusively on StyleHotels.com.
Find out more about the Style Up Your Stay destinations and keep up-to-date on new hotel deals and exclusive perks at http://www.stylehotels.com/deals.
About StyleHotels
StyleHotels are unique in character and located in the top destinations around the world. Launched in 2012 with offices in New York, London, and Prague, the StyleHotels.com collection currently brings together thousands of extraordinary hotels and resorts across hundreds of countries. We provide customers with a passion for style with the definitive website to plan, share and book reservations. Browse 'Food & Drink,' 'Attractions,' 'Shopping,' 'Nightlife,' 'Beaches,' and 'Sightseeing' recommendations from professional travel writers. Learn more at http://www.stylehotels.com.