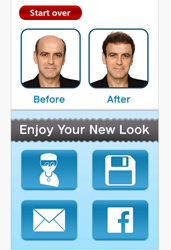 Hair Now allows patients to better understand what their goals should be and what to expect from current hair restoration technology. - Parsa Mohebi, MD
Los Angeles, CA (PRWEB) March 25, 2014
The Hair Now application is an innovative app for IOS which allows users to send an augmented image of themselves with their selected hair style to one of the premier Los Angeles hair restoration centers for an early evaluation. The application, which currently supports high resolution hair samples in all shapes, sizes, and styles, can be used to help determine the best course of treatment for a patient's hair loss classification. Dr. Parsa Mohebi, inventor of the application "Hair Now," explained how this application has the potential to educate users on reasonable achievements made with the modern tools of hair restoration. "Hair Now allows patients to better understand what their goals should be and what to expect from current hair restoration technology. Those who have used the application have been surprised by the realistic results they can achieve. The before and after pictures show how dramatic these results can be, giving prospective patients a look to aspire to."
The application has been in development for over a year in order to ensure that it provided enough options to benefit users with different hair loss classifications. There are upcoming plans to integrate even more customization into the application so that male and female patients experiencing hair loss can easily enhance their image, communicate their goals with their doctor, or simply share their before and after images with friends and family through social media. Additional features for networking are forthcoming, as well as the ability to select from more hair samples.
Applications like Hair Now represent only the beginning of what's possible with today's diagnostic technology. This application was designed to help patients who expressed discomfort with the idea of attending a hair loss consultation, to feel more positive after viewing before and after pictures of themselves and of real patients who have already had a procedure done. This easily accessible application allows users to visualize the benefits of hair transplants before undergoing a hair restoration procedure.
About US Hair Restoration:
US Hair Restoration was established in 2008 by Dr. Parsa Mohebi. As creator of the several methods and techniques in modern hair restoration, Dr. Mohebi and his staff provide the most advanced techniques in hair restoration. Dr. Parsa Mohebi proudly provides services in the Beverly Hills, Encino, and Orange County hair restoration centers in order to better serve all patients. The overall goal at US Hair Restoration is to restore patient's self-esteem through the use of quality hair restoration.