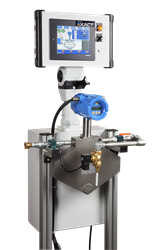 Great New Idea
Newcastle, Maine (PRWEB) March 27, 2014
EXACT Dispensing Systems designs, manufacturers and installs systems for the metering and dispensing of a wide range of fluids. TRICOR designs and manufactures meters including the new and innovative TRICOR Coriolis Meter. These two companies as part of the TASI Group of companies have teamed up to develop the new BATCHMASTER Programable Fluid Batching System.
The BATCHMASTER allows the extremely precise and repeatable batch metering of a wide range of different chemicals into a batch production process. The BATCHMASTER control by EXACT takes input from up to four TRICOR meters and either sequentially or simultaneously manages liquid flow in accordance with the final products process recipe. This control can integrate up to 50 unique recipes and 20 process steps in the management of the four controlled metered fluids.
BATCHMASTER is a unique batching system that has no moving parts through the use of TRICOR meters. EXACT Dispensing Systems will engineer the BATCHMASTER system to the customers process requirements offering a full range of complete system options to meet specific process needs.