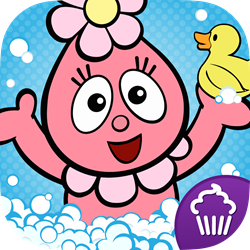 New York, NY (PRWEB) March 27, 2014
Cupcake Digital, Inc. and DHX Media are pleased to welcome the arrival of Yo Gabba Gabba! Babies, a brand new interactive app experience featuring baby versions of the colorful characters from the very awesome world of Gabba! The deluxe activity app, designed for preschoolers age 5 and under, gives kids the opportunity to feed, dress, bathe and care for their favorite friends, Brobee, Foofa, Muno and Toodee, from the Nick Jr. television series. The app is available for a limited-time introductory price of $.99 cents, and will retail for $1.99 on all major app stores, including the Apple App Store, Amazon Appstore for Android, Google Play and others.
Yo Gabba Gabba! Babies features:

Five open-ended role-play activities, including bathing, dress-up, feeding, doctor visit and bedtime
The dance-along music video "Babies"
Deluxe coloring pages filled with plenty of creative tools for little artists
This second Cupcake Digital Yo Gabba Gabba! app is a great companion to the popular Party in My Tummy app and is part of DHX Media's comprehensive Yo Gabba Gabba! marketing and licensing strategy. Yo Gabba Gabba! airs weekdays on Nick Jr. All new episodes of the series will premiere in Summer 2014.
About Yo Gabba Gabba!
Created by Christian Jacobs and Scott Schultz, Yo Gabba Gabba! is an award-winning, live-action television series and live stage show whose unconventional formula has created a triple stacked fan base, making it one of the most popular entertainment properties among preschoolers, parents and indie music lovers alike. Yo Gabba Gabba! infuses retro-style and beat-driven music to teach kids simple life lessons. The series and the live show stars DJ Lance Rock (Lance Robertson) and the cast of colorful characters, including: Brobee, the little green one; Foofa, the pink flower bubble; Muno, the red Cyclops; Toodee, the blue cat-dragon and Plex, the magic yellow robot. In the U.S., Yo Gabba Gabba! airs weekdays on Nick Jr. The series also airs in several major international territories, including Australia, Canada, France, Israel, Latin America, New Zealand, South Africa and the U.K.
Facebook: facebook.com/yogabbagabba
Twitter: twitter.com/yogabbagabba
About Cupcake Digital
Founded in 2012, Cupcake Digital, Inc. gives kids the opportunity to interact with the characters they love by transforming children's entertainment properties into award-winning apps. The Company's apps are consistently top-ranked on the Apple App Store, Amazon Appstore for Android, Google Play and the Barnes & Noble NOOK Store. Cupcake's licensed IP portfolio includes Wow! Wow! Wubbzy!, Jim Henson's Fraggle Rock, Strawberry Shortcake, VeggieTales, Yo Gabba Gabba!, Animal Planet, The Smurfs, Sid the Science Kid, Barney, Mike the Knight, Cloudy with a Chance of Meatballs, Puss In Boots, How To Train Your Dragon, Madagascar, Shrek, and Kung Fu Panda.
For more information about Cupcake Digital Inc., please visit http://www.cupcakedigital.com.
About DHX Media
DHX Media (http://www.dhxmedia.com) is a leader in the creation, production and licensing of family entertainment rights. DHX Media owns, markets and distributes 9,500 half hours of children's entertainment content, and exploits owned properties through its consumer products licensing business. DHX Media is recognized for brands such as Yo Gabba Gabba!, Caillou, Teletubbies, In the Night Garden, Inspector Gadget, Johnny Test and Super WHY!. DHX Media's full-service international licensing agency, Copyright Promotions Licensing Group, (CPLG), represents numerous entertainment, sport and design brands. DHX Media has offices in Toronto, Los Angeles, Vancouver, Halifax, London, Paris, Barcelona, Milan, Munich and Amsterdam and is listed on the Toronto Stock Exchange.