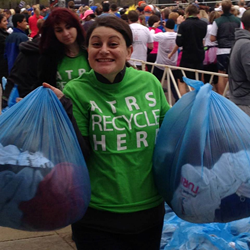 We are so grateful for Children's Miracle Network Hospitals' partnership with ATRS in Dallas. -Stefani D'Angelo
Dallas, TX (PRWEB) March 31, 2014
American Textile Recycling Service employees and Children's Miracle Network volunteers teamed up to make the Dallas Rock 'N Roll 1/2 Marathon a very green event March 21-23rd. Runners, participants and spectators were challenged to bring unwanted running gear and shoes to the Expo for recycling and drop warm-up gear into convenient Start Line carts marked ROCK, RUN, RECYCLE.
Runners rallied and aided green team volunteers by hanging sweatshirts and running gear over the corral fences. The total amount of textiles collected from the 13.1 mile course was approximately 2,300 lbs., which was diverted from Dallas area landfills and recycled.
"We are so grateful for Children's Miracle Network Hospitals' affiliation with ATRS in Dallas, not only because of the lifesaving funds we receive from the Clothing & Shoe Recycling partnership, but because of the wonderful staff members that are always looking for ways to support our various program," says Stefani D'Angelo, Children's Miracle Network's Miracle Corps Ambassador. "A perfect example of this was last Sunday, when students from our Children's Miracle Network Hospitals' Dance Marathon program were invited to help collect clothing donations at the Rock 'N Roll Dallas Half Marathon​. We had a blast walking around the city in our bright green ATRS Recycle shirts, cheering on runners and taking in the exciting race day atmosphere. ATRS donating water bottles to our Dance Marathon's fundraising event in April."
ATRS and Children's Miracle Network would like to thank Rock 'N Roll participants and the many volunteers, fans and the City of Dallas patrol units for supporting the textile recycling crews and making this event one of the most successful partnerships to date. Look for volunteers in bright green ATRS RECYCLE HERE tee shirts at the Country Music Marathon in Nashville, TN on April 26th.
American Textile Recycling Service (ATRS) is the nation's fastest growing textile recycler and an official recycling partner of The Competitor Group. Its socially responsible business model provides free textile recycling solutions for the public, job stimulation worldwide and much-needed funding for worthy local charities. Easy, convenient ATRS Recyclers are available throughout Phoenix, Scottsdale, Tempe and Tucson AZ, San Antonio, Austin, Dallas, Houston, Galveston and Beaumont TX, Nashville, Florida, Michigan, Tennessee, Atlanta, Oklahoma, Colorado and Southern California. For press inquires contact pr (at) atrsonline (dot)com.
Children's Miracle Network Hospitals® raises funds and awareness for 170 member hospitals that provide 32 million treatments each year to kids across the U.S. and Canada. Donations stay local to fund critical treatments and healthcare services, pediatric medical equipment and charitable care. Since 1983, Children's Miracle Network Hospitals has raised more than $5 billion, most of it $1 at a time through the charity's Miracle Balloon icon. Its various fundraising partners and programs support the nonprofit's mission to save and improve the lives of as many children as possible. Find out why children's hospitals need community support, identify your member hospital and learn how you can Put Your Money Where the Miracles Are, at CMNHospitals.org and facebook.com/CMNHospitals.