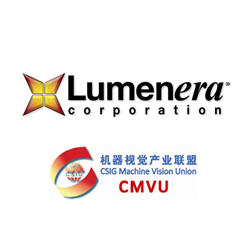 Ottawa, ON (PRWEB) March 27, 2014
Lumenera Corporation, a leading manufacturer and developer of high-performance digital cameras and custom imaging solutions for industrial, scientific, surveillance and astronomy markets, together with MVTec, an established international manufacturer of standard software products for machine vision, announced the integration of HALCON software together with Lumenera's LuCam image acquisition software for its USB 3.0, USB 2.0, and GigE Vision cameras.
Lumenera's USB 3.0 cameras are now supported by MVTec and Lumenera's joint image acquisition interface (HALCON LuCam interface). Lumenera chose to integrate with HALCON's comprehensive machine vision software that includes an integrated development environment (IDE) and is used worldwide. The latest release of the HALCON LuCam interface maximizes the high-speed, high-resolution features of Lumenera's USB 3.0 camera series, the Lt225, Lt425 and Lt365R. These families of cameras are designed for high-speed video streaming and image capture, by combining high-performance sensors with the latest USB 3.0 technology, to ensure fast image delivery even at their largest resolutions. Features of the latest HALCON LuCam interface include the ability to stream multiple cameras, image cropping, external trigger, as well as software control of exposure, focus, gain, iris, white balancing, strobe parameters, and digital input/output signals.
As industry leaders, Lumenera and MVTec have successfully partnered before to offer user-friendly integrated software solutions for machine vision applications. Lumenera's complete portfolio of industrial megapixel cameras is supported by HALCON.
"Lumenera was one of the first members of the MVTec Image Acquisition Partner Program, having joined since it launched in 2007. Over the years, and with fruitful cooperation, we continuously extended and tested the dedicated HALCON LuCam interface." stated Christoph Zierl, Director Product Management, MVTec Software GmbH. "We always ensure that new camera models are supported, and I'm happy to confirm that with this latest interface release, the benefits of the new USB 3.0 cameras can be easily used for all sorts of applications."
"This new integration with our USB 3.0 cameras opens up a wide variety of machine vision applications where high speed, high accuracy images are required. Our USB 3.0 cameras are built for rugged 24/7 use and ideally suited for applications such as high-speed inspection and motion control, OCR and OCV, bar coding, and defect analysis to name a few", explains Dany Longval, Vice President, Worldwide Sales at Lumenera Corporation. "We are very pleased that our USB 3.0 customers can now take advantage of this joint solution and to our continued work with HALCON."
The Lumenera HALCON solution is now available. Contact [email protected] with your imaging requirements, or visit Lumenera online at http://www.lumenera.com for more information on these products and other custom/OEM imaging solutions. To learn more about MVTec's HALCON visit http://www.halcon.com.
About Lumenera
Lumenera Corporation, a division of Roper Industries, and headquartered in Ottawa, Canada, is a leading developer and manufacturer of high performance digital cameras and custom imaging solutions. Lumenera cameras are used worldwide in a diverse range of industrial, scientific and security applications.
Lumenera solutions provide unique combinations of speed, resolution and sensitivity in order to satisfy the most demanding digital imaging requirements. Lumenera customers achieve the benefit of superior price to performance ratios and faster time to market with the company's commitment to high quality, cost effective product solutions. For further information about Lumenera, please visit http://www.lumenera.com or call 613-736-4077. To receive Lumenera press releases as they are issued, contact us at [email protected]
About MVTec
MVTec is a leading manufacturer of standard software for machine vision. MVTec products are used in all demanding areas of imaging: Semi-conductor industry, web inspection, quality control and inspection applications in general, medicine, 3D vision, and surveillance. MVTec has more than 30 established distributors, located throughout Europe, North and South America, Australia, and Asia (China, Japan, Korea, India et al.). In addition, MVTec, LLC works out of Boston, MA (USA), to better attend the North American market since 2007.
For more information refer to http://www.mvtec.com
Contacts
Lumenera Corporation
Skylar Davies
Marketing Communications Specialist
(t) 613-736-4077 x 120
skylar(dot)davies(at)lumenera(dot)com
MVTec Software GmbH
Dr. Lutz Kreutzer
Manager PR & Marketing
(t) +49 (89) 457 695 0
press(at)mvtec(dot)com