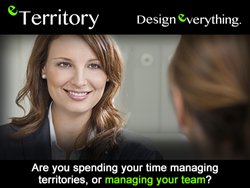 Fairfield, NJ (PRWEB) March 26, 2014
Vision-e today announced that its eTerritory app, which is available on salesforce.com's AppExchange, has experienced a tremendous response from users who are employing the tool to help make fast, easy account assignments and reassignments. With its visual charts, and ability to handle record transfers of well over 25,000 at once, eTerritory is saving Salesforce Administrators and sales managers time and effort by allowing them to complete even complex account management tasks in minutes, not hours. Additionally, Account assignments are instantly available on the Salesforce 1 mobile platform.
Built on the Salesforce Platform, the world's leading cloud platform for social and mobile business apps, eTerritory is currently available on the AppExchange at http://www.appexchange.com.
Comments on the News
In her About.com article entitled, "Time Management Tips for Sales Managers," author Wendy Connick states, "The most frequent complaint of sales management is that there's never enough time to get everything done. Many sales managers work sixty or even seventy hours a week, yet their inboxes are always overflowing with urgent tasks." eTerritory was designed specifically address this problem by helping busy sales managers and Salesforce Administrators significantly reduce the amount of time spent on account assignments and reassignments.
Product Key Features
Taking only moments to learn, eTerritory is an exceptionally powerful, fast, and secure account assignment and reassignment tool. A few of its most popular benefits and features include:

The ability to transfer over 25,000 records with just a few clicks
Drag-and-drop account reassignments
The viewing of proposed changes in both chart and spreadsheet form prior to committing those changes
Filters that offer simple drop-down boxes for the standard user, and open-ended programming fields for the advanced user
Security settings that follow the organization's Salesforce security model
Additional Resources
About the AppExchange
The Salesforce AppExchange is the world's leading business apps marketplace. With more than 1,800 partner apps and 1.7 million customer installs it is the most comprehensive source of social and mobile cloud apps for business. The Salesforce Platform is the world's most trusted and comprehensive cloud platform for building social and mobile cloud apps, powering Salesforce CRM, and more than 3 million custom apps built by customers and partners. Apps built on the Salesforce Platform can be easily distributed and marketed through salesforce.com's AppExchange.
Salesforce, AppExchange and others are trademarks of salesforce.com, inc.
About Vision-e
Vision-e, in alliance with Salesforce, is a leader in CRM implementations and productivity applications. Vision-e meets the emerging needs of customers by providing rapid CRM implementation, mobile and cloud computing technologies and external system integrations.
Vision-e has the experience and expertise to deliver fast and responsive Salesforce solutions so customers get the performance they expect.
From bakers to bankers, garages to GM, Vision-e creates affordable, effective, customized Salesforce solutions for any size business, with any size budget. Vision-e puts its customers first so they can put their customers first.
"Vision-e provides elegant, highly customizable solutions that help companies of all sizes get the most out of the Salesforce platform. Vision-e: it's Salesforce…extraordinary." ~ Jule Limoli, CEO, Vision-e
For more information on Vision-e, go to http://www.Visione.com or call 888-611-2679. Vision-e is headquartered in Fairfield, NJ.