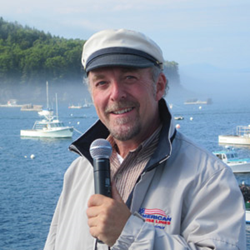 Having lecturers aboard is really helpful to passengers; it gives context to what they're seeing. - Sam Ladley, a featured onboard historian with American Cruise Lines
Guilford, CT (PRWEB) March 26, 2014
American Cruise Lines (http://www.americancruiselines.com) today announced its lineup of 2014 guest speakers. In order to enhance the passenger cruise experience, American Cruise Lines invites carefully selected experts to join them onboard, each offering expertise and unique insight on a range of topics, passing scenery and ports of call, and often accompanying guests on shore tours.
"Having lecturers aboard is really helpful to passengers; it gives context to what they're seeing," said Sam Ladley, a featured onboard historian with American Cruise Lines and a cruise industry veteran.
From renowned enlighteners, historians, naturalists, journalists and authors, the diverse group of personalities will share their expert insights with guests aboard each itinerary. Following are five of the many featured guest speakers slated for the 2014 season:
-Toots Maloy – Maloy is an expert river historian with a distinguished history on America's rivers, particularly the Mississippi River. A perennial passenger favorite, "Toots" brings the history and culture of America's great rivers to life with her wealth of knowledge.
-Sandy Balla – Balla is a Hudson Valley native whose expertise lies in community preservation and development. She also owns an antiques and architectural salvage company that has been featured on national television, including "Trading Spaces" on HGTV.
-Todd Weber – This highly celebrated river-running historian shares with guests his appreciation for the stamina, ingenuity and character that existed in those who braved the Last Frontier. In his presentations, Weber brings history to life with period clothing and colorful presentations.
-Sam Ladley – Ladley is a renowned New England maritime historian with more than 20 years of experience lecturing professionally aboard cruises and for various historical societies and school systems. Ladley specializes in the history of colonial settlement, Native American history, whaling, coastal and island communities, and more.
-Charles Petrocci – Petrocci has traveled and worked in more than 35 countries and has written hundreds of articles and reports for numerous universities and publications. He currently serves as a maritime cultural heritage researcher and consultant for numerous reputable organizations. Petrocci's lectures focus on coastal maritime history, fisheries, and the heritage of the Atlantic Coast.
For a full list of speakers, please click here.
"We are excited for our guests to spend time with these fascinating personalities," said Timothy Beebe, American Cruise Lines' Vice President. "Enriching and educating passengers on their destination is an important element of every American Cruise Lines cruise, and one which has earned us great praise from our guests."
"It's the guests that keep me coming back," said Sandy Balla, historian and lecturer active in community preservation and development. "They're wonderful; interesting, interested and informed. I learn as much from them as they do from me."
About American Cruise Lines
American Cruise Lines is the largest U.S. cruise company and operates the newest fleet of riverboats and small cruise ships on more than 35 itineraries around the country. The line is known for working closely with guests and travel agents before, during, and after a cruise to create a highly personalized cruise experience. Long established and deeply experienced in cruise travel, American Cruise Lines has most recently received world-wide recognition as the first line to revive paddlewheel river cruising in America. To learn more about American Cruise Lines, visit http://www.americancruiselines.com or call 800-814-6880. Find us on Facebook at http://www.facebook.com/americancruiselines or follow us on Twitter at http://www.twitter.com/american_cruise.
###