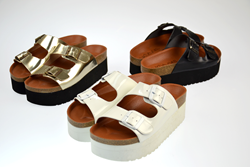 "Most of the sandals we carry this season, make a great transition from day to night. You will get more bang for your buck with styles you can dress up or down."
Lutherville, MD (PRWEB) March 31, 2014
With Spring finally here, the hunt for the perfect pair of sandals has begun. Envishoes.com anticipates the Birkenstock look will be one of the hottest must-haves of the season. With most brands making their own interpretation of the look, Envi Shoes made sure to stock styles that included those who favor the classic Birkenstock to those who prefer a more edgy take on the style. Cult brands including Jeffrey Campbell Shoes, Senso and Y.R.U. all jumped on the trend and offers a variety of must-have styles.
When you hear Birkenstock, it is hard not to think of the hippie, '60s flower children but this season; our perception will totally be transformed. Now, when we think of Birkenstock, we can reference supermodel Andreea Disconu in French Vogue riding a bicycle in last spring's most-talked about shoe, the Céline's fur-lined Birkenstock.
Once considered a fashion faux pas reserved for tree huggers, the Birkenstock has been re-imagined by a sleuth of designers including Givenchy's Riccardo Tisci and Giambattista Valli and, of course, Phoebe Philo at Céline. You can also spot the look on fashionable celebs like Ashley Olsen and style bloggers like Danielle Bernstein of 'We Wore What'.
Envi Shoes offers its customers plenty of Birkenstock-like styles without the hefty $800 Céline price tag. For example, take the Sixtyseven Indigo Sandal priced at $84.95, which is available in black, gold and white. This sandal is truly made for the girl who loves to keep it classic and wouldn't mind a little platform.
Also available for the girl who appreciates a little edge is the Y.R.U. Everest Sandal. With a 3 ½" platform they definitely capture the Birkenstock look but don't hold back in terms of height. Surprisingly lightweight and comfy, Y.R.U. does an excellent job capturing the trend while keeping their brand's famous edge factor.
Tia Nicole Newton, Marketing Manager at Envishoes.com says, "Most of the sandals we carry this season, make a great transition from day to night. You will get more bang for your buck with styles you can dress up or down."
Spring flatforms available at Envishoes.com are priced between $79-$200. You can find other great sandals on their website from brands including Jeffrey Campbell Shoes and Gee Wa Wa. Remember to visit Envi Shoes' Instagram and Facebook accounts starting April, for a month of giveaways!
About Envi Shoes
Envi Shoes is an online retailer of fashion-forward designer shoes and accessories, for both men and women, from Jeffrey Campbell, UNIF, Y.R.U., T.U.K., Frye, Deandri, Wolverine, Senso, Rebecca Minkoff and more. Based in Baltimore, Maryland the company operates solely online with a global reach serving shoe lovers not only in the United States but also in the UK, Russia, Australia, Japan and Hong Kong to name a few.
Who is the Envi Shoes customer?
Envi Shoes likes to think of them as a lover of art, fashion and music. They are the blog readers, the trendsetters and risk-takers. They certainly don't follow the trends, they set them.