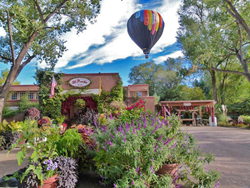 Our family coined the phrase 'New Mexican Cuisine' over 80 years ago.
Albuquerque, NM (PRWEB) March 25, 2014
El Pinto Restaurant in Albuquerque, New Mexico is proclaimed a New Mexico Culinary Treasure. The rich history of El Pinto flourishing as a family owned business for over 50 years is the impetus to honor El Pinto as an "Albuquerque True Culinary Treasure" by the State of New Mexico.
Over the 52-year tradition of El Pinto, the restaurant has helped to put New Mexican cuisine on the map as it has prepared green chile based cuisine within the White House presidential kitchen and provided "take-out" direct to Air Force One on the tarmac in Albuquerque. In addition to serving presidents, cabinet secretaries and military generals, celebrities ranging from comedian Bill Cosby to singer Katy Perry to UFC champion Jon "Bones" Jones, among many others have enjoyed El Pinto salsa and chile. Locally, residents have independently voted El Pinto Restaurant the Best New Mexican Restaurant in the annual Albuquerque The Magazine readers poll.
Co-owner of El Pinto, John Thomas, accepted the designation from New Mexico Tourism Cabinet Secretary Monique Jacobson. "My brother and I are proud to carry on a three generation family tradition started by my parents, serving the traditional recipes of our grandmother Josephina Chavez-Griggs, that differentiates New Mexican cuisine from its relative Mexican food," explains John Thomas, one of the Salsa Twins and co-owner of El Pinto Restaurant.
Twin brother Jim Thomas adds, "Our family coined the phrase "New Mexican Cuisine" over 80 years ago and we continue to serve entrees with a distinctive New Mexican flavor profile which originates with farm fresh ingredients and outstanding chile."
El Pinto Restaurant and Salsa Co. continues to expand in its 52nd year with an emphasis on serving nutritious, locally raised, and organic foods. El Pinto Restaurant has grown from a few tables in one room started by John and Jim Thomas' parents, to become the most famous restaurant in New Mexico with beautiful patios, natural wood burning fireplaces, and healthy New Mexican cuisine. El Pinto Salsa has recently expanded with the addition of the convenient single serving cup which reduces product waste and increases consumer satisfaction. The restaurant and salsa manufacturing facility are co-located on property in the North Valley of Albuquerque, New Mexico.
About El Pinto Restaurant & Salsa Co:
Established 50-years ago, El Pinto is a quintessential icon for New Mexican cuisine. Conveniently located in the North Valley of Albuquerque just off I-25, the serene patios located under beautiful cottonwood trees provide an iconic experience. El Pinto is known nationally for its fire-roasted green chile and fresh flavorful salsa distributed across the nation in local grocery stores. The salsa and green chile factory is located on the same grounds as the restaurant. For an authentic taste of New Mexico, visit El Pinto for its fresh iconic food, traditional margaritas, and award winning chile. http://www.elpinto.com