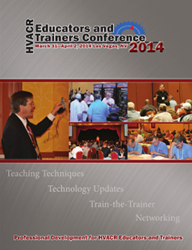 ...experience first hand the revolutionary EZ Turn™ Anti-Blowback Fitting.
Ft. Lauderdale, FL (PRWEB) March 26, 2014
Uniweld Products, Inc. is attending HVAC Excellence's 2014 National HVACR Educators and Trainers Conference from March 31 - April 2 at the South Point Hotel, in Las Vegas, Nevada. Uniweld's sales team will be exhibiting two exciting new products at the show. All attendees are encouraged to stop by Uniweld's booth (booth #17 & #18) to check out the NV1 NitroVue™ and "Take the EZ Turn™ Challenge!"
Uniweld's NV1 Nitrovue™ is nitrogen purging simplified. The NitroVue™ comes with an easy to read flow indicator label and a precision adjustable valve to control the low flow of nitrogen gas. The bright orange float ball and tube are fortified and protected in the aluminum body with wide open windows for a clear view.
Attendees will have the opportunity to compare under pressure typical service hoses used today with standard, ball valve, and anti-blowback fittings and experience firsthand the revolutionary EZ Turn™ Anti-Blowback Fitting. The ingenious thrust bearing design allows technicians to easily connect a service hose to an access fitting while the system in under pressure.
About HVAC Excellence:
HVAC Excellence was the first organization to create accreditation programs for the HVACR industry in the US and since that time has become an authority in that field. As of this year, they are recognized in 32 states for the quality and integrity of their programs.