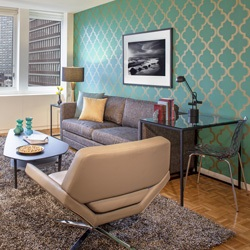 Boston, MA (PRWEB) March 26, 2014
Furnished Quarters, the largest provider of temporary furnished apartments in New York City and Boston, today announced that the company is in the process of updating its apartments at its Boston-based property, Avalon at Prudential Center. The redesigns encompass three buildings at 770, 780, and 790 Boylston Street in the center of Boston's thriving Back Bay neighborhood.
The restyled interiors present a completely new look for the Furnished Quarters apartments at Avalon, that includes modern furniture, rugs, art, repainting, and signature accent wallpaper in green and gold. Each apartment features innovative lamps and lighting, as well as contemporary coffee table designs and upgrades to all TVs and other electronics.
Furnished Quarters' design team created the redesigns through its 100% in-house design studio—a unique department for a corporate housing company. "In our effort to provide our guests with the most current furnishings and innovative looks, Furnished Quarters continually refreshes the design of our proprietary residence portfolio," said Steve Saide, Furnished Quarters' Executive Vice President of Design. Saide added that the company's design function is kept in-house so that the designers stay in tune with what will fulfill visitors' needs and desires.
"The new look is contemporary and fresh—a real departure from a typical furnished apartment thanks to Furnished Quarters' forward-looking design team," said Annette Clement, Executive Vice President and General Manager, Massachusetts, for Furnished Quarters.
The Avalon at Prudential Center is conveniently located near Newbury and Boylston Streets and offers underground access to retail shops and restaurants. The Avalon is steps from shopping and nightlife, award-winning health and fitness clubs, as well as the Public Garden, and public transportation from the Copley Green Line stop and Back Bay Station.
Furnished Quarters offers hundreds of apartments throughout Boston and Cambridge, Massachusetts. More than half of the company's Boston apartments have recently been redesigned, including Furnished Quarters' Devonshire and Church Park properties. In addition to the upgrades at the Avalon, Furnished Quarters is also refurbishing two other buildings that are due to be completed this summer.
About Furnished Quarters
Furnished Quarters is an independently owned and operated provider of stylishly designed and fully equipped temporary furnished apartment rentals, both nationally and globally, and the largest provider of temporary furnished housing in New York City and Boston. Furnished Quarters also provides a diverse portfolio of temporary furnished apartments in New Jersey, White Plains, and Connecticut. Established in 1998, Furnished Quarters is a founding member of GO Furnished Housing Providers, a consortium of best-in-class temporary housing companies offering one-call access to apartments worldwide. For more information visit http://www.furnishedquarters.com.