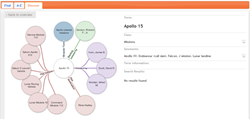 San Jose, CA (PRWEB) March 27, 2014
Today, Smartlogic announced the release of Semaphore 3.7, with massively improved information extraction capabilities. Smartlogic users already have some of the best, most precise auto-classifcation available, and this release provides even more accuracy. This will particularly benefit clients in the financial services industry that use Semaphore for compliance reasons.
Overall, Semaphore 3.7 is a major release including enhancements and new features across all of the Semaphore components. Other specific highlights are:

Improved functionality for SharePoint 2013 and 2010
Better metadata ability for the Google Search Appliance
Significant performance improvements in the publish process to handle extremely complex mark-up
Improvements in handling of large models in Ontology Manager, Ontology Server and Semantic Enhancement Server
Support of Microsoft SQL Server for Semaphore Workbench
For Sharepoint 2013 and 2010, Semaphore has improved performance to support very large SharePoint farms as well as connector improvements as part of its accomodation of Office 365. Semaphore 3.7 also has a "default columns" feature, which auto-populates columns on the edit properties page. When users upload or re-save a document, they'll see the default values, which they can then save to continue or adjust as usual. The Semaphore for SharePoint integration also has an improved user interface , added capability in the taxonomy browser tree, added diagnostic tools, and added capability to the taxonomy web part.
Ontology Manager now has SKOS capability, a step that makes Semaphore's inter-operatability with the semantic web even stronger.
Also in the 3.7 release is better extraction from and classification of PDF documents and improved publishing of very large ontologies and their related rules.
The Semaphore for Google Search Appliance solution has improved performance and support for GSA 7.0 as well as flexibility in the configuration of the dispatcher.
Semaphore also has a newly developed integration with Oracle ECM via Smartlogic's partner, Infomentum. This integration will help Oracle ECM users find information quickly, reliably, and efficiently through the use of integrated taxonomy management and enriched automatic metadata classification and application to content managed in Oracle ECM.
For more information contact:
Evelyn Kent
evelyn.kent(at)smartlogic(dot)com
(703) 835-9036
About Smartlogic
We believe that organizations can outperform others if they fully utilize the huge business value contained in content. To realize this value we know you must understand your content, the information and knowledge it contains, and how it can be applied in the context of your operations. We focus all of our energy on creating value from content – something we call Content Intelligence.
Semaphore is our Content Intelligence platform; it captures the context of your business then analyzes content to identify and present its value. Smartlogic Content Intelligence solutions enable better access to corporate knowledge, improved risk management and compliance, superior customer service and relationship management, enhanced information findability for key audiences, and an improved ability to monetize information. Hundreds of companies, including NASA, Bank of America, Target, Audi, Disney, Honeywell and State Farm use Semaphore.
Smartlogic has offices in San Jose, CA; London, Washington, DC, and Boston.