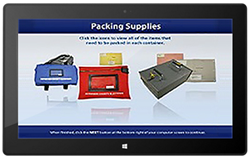 With interactive online poll worker training from SOE, users can access interactive tools and training materials anytime, anywhere on their preferred device.
Tampa, FL (PRWEB UK) 26 March 2014
SOE, a Scytl Company, and worldwide leader in secure online voting and election modernization, today announces the acceleration in adoption of Clarity Election Training to train poll workers in cities and counties across the country.
According to the Presidential Commission on Election Administration (PCEA), "Finding adequate resources and time to properly train poll workers continues to be a challenge for election administrators. The high rates of turnover in poll workers make it difficult to preserve institutional knowledge." The average poll worker only receives two-and-a-half hours of training and in addition, few jurisdictions monitor training progress and even fewer test poll workers to ensure they can perform the responsibilities required on Election Day. Yet, poll workers are instrumental in determining the voters' experience at the polling place.
To address these challenges the PCEA report recommends that States institute standards for poll worker training and cites that online training not only presents an opportunity for intensive training but also provides mechanisms for evaluation and feedback. The report also acknowledges that online poll worker training can make interactive tools and training materials available to poll workers anytime, anywhere.
Over a million users of Clarity Election Training are using this powerful tool which enables them to effectively address all of the recommendations in the Presidential report. Electoral bodies are able to customize training to ensure that poll workers are provided consistent instruction across all their responsibilities: from helping voters sign into the polling place, providing ballots and assisting with voting machines. This online platform allows poll workers to access training anytime, anywhere from any type of computer device including tablets and mobile phones.
"Poll workers across Illinois, Georgia, New York and Nevada along with the cities of Calgary and Edmonton and the Alberta Municipal Services Corporation in Canada have recently joined over a million others in over 800 US cities, counties and jurisdictions currently using Clarity Election Training," says Allison McKay, VP of Client Services for SOE. "And we expect this trend to continue in light of the poll worker training recommendations outlined in the report from the Presidential Commission on Election Administration."
The report cites Dallas County, Texas, a user of Clarity Election Training, as an example of a successful implementation of online poll worker training. The report says, "There are examples, such as in the State of Michigan or Dallas County, Texas, where significant time and attention has been paid to the development of online training programs that, the Commission was advised, have proven effective."
Marci Andino, Executive Director of the South Carolina Election Commission, a user of Clarity Election Training since 2008 says, "We have trained over 20,000 poll workers in 46 counties. SOE worked with us to develop a training curriculum unique to our processes and procedures. Now we are able to provide a consistent user experience and training for all workers. The solution is scalable and we can make updates to the material on our own without help from IT. The overall delivery and performance has been very successful."
About SOE
SOE, a Scytl company, is a nationally recognized, leading provider of election modernization technology. SOE provides intuitive election management and administration software solutions that span the entire election process, from pre-election preparation through Election Day results reporting, and post- election auditing and analysis. SOE's solutions include Electronic Ballot Delivery, Online Voting, Online Poll Worker Training, Electronic Pollbooks, Voter Education Web Portals and Election Night Reporting. These solutions assist local, state and federal election officials in increasing the security, productivity, efficiency, transparency, accessibility and auditability of their election processes. To date, SOE has conducted election technology implementations – including over 18 statewide projects – in over 1,600 jurisdictions across 37 States and U.S. territories, plus the District of Columbia. SOE is based in Tampa, Florida. http://www.soesoftware.com.