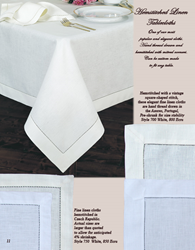 Boca Raton, FL (PRWEB) March 27, 2014
Recognizing that many consumers struggle when it comes to outfitting oddly shaped surfaces with tablecloths that look and feel professional, Table Cloth Factory is announcing its line of customizable options for the consumer, available through its well-known website. Consumers can now choose from a wide variety of fabric styles and colors, and exact dimensions can be entered for a precise fit.
When it comes to linen tablecloths, no resource is better than Table Cloth Factory. As an online retailer that is dedicated to providing high quality silk, organza, lace and linen tablecloths, they have helped many customers create beautiful settings for both casual and formal dining. In addition to a wide selection of tablecloths, they also provide complementing accessories including chair covers, linen napkins and more.
A linen tablecloth that hangs too far over the edges of a table or serving station can look very unkempt, and the same goes for a tablecloth that is too short for the surface it's on. This feature is extremely important during formal dining events such as dinner parties or even wedding receptions where a great deal of focus is placed on the dining décor.
Table Cloth Factory has now made it easier than ever to order table cloths and accompanying accessories to create a professional custom look no matter how much experience a consumer has in the party planning field. Professional planners will love the ease of ordering large quantities of customized items, while non-professional homeowners will swoon over the vast selection of colors and styles that allow them to complement their home's unique décor.
The quality of table cloths goes a long way, as well, and something made from cheap materials will not only look tacky, but also do a poor job protecting the surface of the dining area. Table Cloth Factory utilizes only the highest quality materials and strives to provide a wide selection that caters to a number of different tastes and styles. From luxurious silk to fun and trendy taffeta, consumers will enjoy browsing their selection and choosing a favorite.
Table linens can also be a great way to add color and pattern to a space without being too overwhelming. Centerpieces can get in the way during dining events and other accessories can take away from the experience and conversation that is typically created during a formal or casual dinner. Now that consumers have the ability to cover abnormally shaped or sized furniture in a beautiful and practical manner, creating a harmonious and well-decorated environment is now easier than ever.
Customization is simple, and vivid product descriptions are available to ensure consumers are getting exactly what they have in mind for their theme or décor. Whether the customized linen tablecloth is for a special event or just a residential dining room, Table Cloth Factory's experience and attention to detail has made them a preferred manufacturer for anyone who is looking to complement their décor with both quality and beauty.