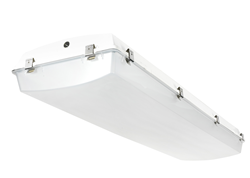 LED efficiency has been consistently improving and this allows us to provide end-users with the energy savings associated with this technology.
Yorba Linda, CA (PRWEB) March 25, 2014
A new fixture released today by Precision-Paragon [P2] is the manufacturer's first wet location LED fixture with efficacies up to 110 lumens per watt with a wide range of lumen outputs to address a variety of lighting applications.
"LED efficiency has been consistently improving and this allows us to provide end-users with the energy savings associated with this technology," said Russell Price, director of engineering at [P2]. "The LVT demonstrates these increased efficacies to enable the replacement of aging luminaires that are not cost effective."
The new LED LVT is a high-bay wide body vaportight fixture, with applications in many food service, cold storage, warehousing and other high-bay locations.
The LVT is available in multiple lumen packages. This allows the fixture to be used in a wide range of situations that may call for different light output requirements.
"Many of our customers are looking for a consistent aesthetic, with the ability to customize light output," said Joe Martin, [P2] vice president and general manager. "By taking advantage of its multiple lumen packages, many applications in a facility could be upgraded with LVTs, even if there were variable lighting requirements within that facility."
In many applications where the LVT will be used, glare is a concern. The LVT is designed with a diffused lens, which helps to reduce glare, provide even distribution and increase the visual comfort without pixilation for workers in areas illuminated by the fixture.
The fixture is also available with an IP65 rated wet-location occupancy sensor, allowing easy-to implement automatic control of the fixture. This makes the fixture especially attractive for cold-storage applications, where startup times might prohibit lighting controls from being used with fluorescent or HID fixtures. In contrast, the LVT's LED light engine will come on instantly at full brightness in sub-zero temperatures. The fixture can also be configured with integrated dimming or bi-level controls.
LVT LED fixtures are designed to allow both surface-mounted and suspended installation. Building owners considering the LVT for food-processing applications will appreciate its glass-free and mercury-free construction, eliminating risks of contamination associated with lamp breakage or potential mercury contamination.
The LVT is now available to order in a variety of customizable configurations for light output, dimming, controls and mounting options. Interested lighting professionals and business owners can learn more by downloading the fixture's specification sheet at http://www.p-2.com/cutsheet/led/LVT.pdf, or calling (714) 386-5550.
About Precision-Paragon [P2]: For over 20 years, [P2] has made high-quality, indoor-and-outdoor light fixtures for a wide range of applications in retail, commercial and industrial spaces. [P2]'s energy-efficient lighting drastically cuts energy consumption, creating big cost savings and significant environmental benefits.
Over the last two decades, [P2] has earned a reputation for going the extra distance in customer support by producing high-quality, American-made products. [P2] products are manufactured in Hudson, Wis. and at the company's headquarters in Yorba Linda, Calif.
Website: http://www.p-2.com