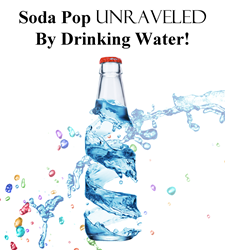 City of Industry, CA (PRWEB) April 07, 2014
According to industry tracker Beverage Digest, the drinking habits of Americans have been steadily moving away from carbonated sodas such as Coca-Cola and Pepsi, to healthier alternatives like bottled and tap water for years. Over the past two decades, soda has been the No. 1 drink in the U.S. fueled by the power of sweet chemical indulgence and flashy advertising campaigns. Generations of Americans grew up being influenced by the iconic, happy images of soft drinks as an indispensable part of their lives that was as natural and wholesome as the air they breathed and the water they drank. That mindset has been gradually chipped away as per capita soda consumption in the U.S. has been in steady decline since 1998, based on Beverage Digest estimates.
With diabetes, obesity and tooth decay on the rise, people started to turn away from soft drinks in the 1990s due to their health concerns about sugary processed drinks. During the same period, the practice of purchasing convenient single-serving bottled water also became widely accepted and commonplace. Americans have been drinking more water and less soda ever since. Taking note of the trends, beverage companies marketed sports, performance, vitamin and energy drinks as healthier alternatives; however these drinks also contained high fructose corn syrup, artificial sweeteners and colors. To their credit, these bottling titans do also offer bottled water in a variety of forms including Artesian, mineral, carbonated, electrolyte and flavor enhanced water. Interestingly, the beverage that has been lost and neglected in all the marketing fuss and confusion is actually the most refreshing, affordable and responsible drink of all – filtered tap water!
The idea of drinking filtered tap water has never been wiser. Today's modern home water filtration systems can filter regular tap water at the sink, to produce ultra-pure and safe delicious drinking water comparable to premium bottled waters. Major water companies bottle their products using advanced multi-stage reverse osmosis (RO) systems, which is the same technology and scaled-down process used by small, under-counter RO filtration units installed in the home. These automated, low maintenance systems can produce an unlimited supply of fresh, clean water at a fraction of the cost of bottled water and without the stale plastic taste and waste. A single reverse osmosis water filter with a reusable bottle can help keep thousands of plastic bottles out of landfills over the life of the system. It is one of the most cost-effective and responsible methods for people to reduce their dependence on soda and bottled water consumption while also protecting their health.
About APEC Water
For over 17 years, APEC has been an industry leading manufacturer of high performance reverse osmosis drinking water systems. Based out of Southern California, APEC specializes in building the highest quality residential and commercial under-counter and whole house water filters right here in USA. The company offers their products exclusively through their website and also provides an extensive water filtration guide and library to the public. To learn more about APEC Water and the Total Solution system, please visit http://www.freedrinkingwater.com or call customer service at 1-800-880-4808 for more information.