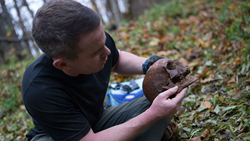 (PRWEB) March 27, 2014
National Geographic Channels International (NGCI) has announced "Nazi War Diggers", a four-part documentary series that follows a diverse team of experts as it explores WWII battlefields on WWII's Eastern Front.
The series, which airs on National Geographic's European channels next month, travels to remote forests and fields of Eastern Europe, where the team hunt down stories of war and uncover relics from the area's violent past.
The team consists of Stephen Taylor and Kris Rodgers, both experienced metal detecting experts; Adrian Kostromski, a polish-born relic hunter; and former U.S. Marine and well-known historian and antiquities dealer Craig Gottlieb.
Gottlieb is one of the largest-volume military artifacts dealers in the United States, and is known worldwide for uncovering key pieces of history including recently, Adolf Hitler's uniform. Earlier this year, Gottlieb uncovered a fake passport believed to have been used by Auschwitz "Angel of Death" Josef Mengele to flee justice.
Speaking about his co-stars, Gottlieb is passionate. "I'm in the best company here," he says. "It's like getting to travel back in time to uncover stories never before told. And getting to do it with three smart guys who share my love for history ... that is a dream come true."
The show is produced by award-winning British production company Clearstory.