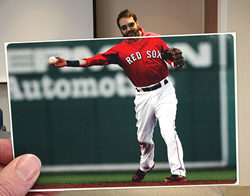 I've created costumes that bring out the inner personality of each of our employees
West Warwick, RI (PRWEB) April 01, 2014
QuickLabel Systems, an Astro-Med, Inc. (NASDAQ: A LOT) business unit, has recently tested a new application for their Kiaro! inket label printer. The Kiaro! has the ability to print wearable costumes, which will be highlighted with a contest held from April 1-4, 2014. QuickLabel will feature wearable label costumes printed by the Kiaro!. The public will be able to vote on their favorite costume on Facebook.com/QuickLabel throughout the week.
The Kiaro!, QuickLabel Systems' flagship color label printer, can produce high quality, full color labels and can also be used to print an array life-like, wearable costumes, whenever a need for a costume might arise.
This new application will be tested firsthand by QuickLabel employees.
QuickLabel Employees Act as Fashion Models
Various QuickLabel employees from the sales, marketing and engineering departments have taken part in the costume testing. QuickLabel customers, friends, and the general public will have the chance to vote for the "best label costume."
QuickLabel's Art Director worked to design the first printed costumes, and several employees acted as models. "I've created costumes that bring out the inner personality of each of our employees," says Michael Pekala, Art Director. "They will get to model a fashion that is uniquely theirs." The Kiaro! label printer will be an integral part in creating each of the individual, distinct costumes for each employee.
Voting Integrated through Social Media
All photos of employees wearing their unique costumes will be uploaded to QuickLabel's Facebook page on April 1, 2014. The employee with the most votes (in this case "likes" on Facebook) will automatically be selected to win a prize.
QuickLabel will promote the contest and all of the pictures through both of its Facebook
account.
"We want to give the employee with the most votes a prize to not only say thank you for their involvement in the contest, but to say thank you for all of their hard work," says April Ondis, Worldwide Marketing Director. "This is an opportunity for our awesome customers to tell us which employee wears it best."
QuickLabel Systems' label printers are known to create high quality color labels with photos, logos, barcodes, expiration dates, and other variable information. Specifically, the Kiaro! inkjet label printer is recognized for its speed and high quality, characteristics included in one machine, which allow customers to print superior labels on demand.
About QuickLabel Systems and Astro-Med, Inc.
QuickLabel Systems is a leading manufacturer of digital color label printers used by manufacturers and processors who want to print their own labels in-house as an alternative to buying large quantities of pre-printed labels. QuickLabel Systems is a brand of Astro-Med, Inc., a manufacturer of high tech specialty printing systems and data acquisition systems for test and measurement. Astro-Med, Inc. (NASDAQ:ALOT) is a member of the Russell Microcap® Index. Additional information is available by visiting http://www.QuickLabel.com. Keep up with QuickLabel Systems on Twitter at http://www.Twitter.com/QuickLabel and on Facebook at http://www.Facebook.com/QuickLabel.