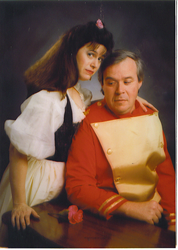 Lewis...Whose lusty top register says, "NOW Don Jose!"
Bound Brook, NJ (PRWEB) March 27, 2014
Eastern Opera of NJ opened Carmen March 22 with standing ovations. The Opera was repeated March 23 and Arthur W Ritchie was enthralled with the performance. Ritchie, really knows his opera. He was the former Chairman of the Board of Fairleigh Dickinson University's Opera at Florham, Adjunct instructor of Opera Appreciation at the Somerset County Community College adult school; and author of that course's text, OPERA101 which is available online free at "Arthur W. Ritchie Smashwords".
Mr. Ritchie wanted to make sure everyone knows about the opera and he wrote in his review: "LISTEN UP! FOR THIS SATURDAY AND SUNDAY, (March 29th and 30th) NEW YORK CITY IS MOVING TO BOUND BROOK'S FABULOUS BROOK THEATER FOR A GLORIOUS PRODUCTION OF GEORGES BIZET'S CARMEN!"
Mr. Ritchie had glowing things to say about the character Carmen played by Karole Lewis: "Meet the saucy Carmen, whose beauty and seductive glances alone say, "Your place? Or mine?" Whose lusty top register says, "NOW Don Jose!" While her throaty lower register presages her own doom!"
Carmen's counterpart, Don Jose, played by Peter Lewis of Warren NJ, was praised for his performance. Mr. Ritchie said "How this magnificent voice escaped New York, I'll never know. A stunning tenor with the power to fill any theater from his threatening low chest tones to a full rich head tone that can reach all the way up into a wonderfully comedic falsetto! Great male singers in America are rare, and as tenors go, I put this man in a class by himself."
Other cast members were called out including Micaëla played by Jacqueline Levia; Escamillo performed by Ted Dougherty of Hoboken and local bass celebrity Don Kalbach. Ritchie wrote about Ms. Levia, "is perfect in the role as her shy and modest demeanor combined with her rich voice drip with, "But Don Jose, we just did that last month!"; Mr. Dougherty, "played with such style and panache that would scare the hell out of any bull!"; and Mr. Kalbach, "And rounding out the basses is Somerset County's own living legend, Don Kalbach. With a musical career spanning more than 50 years as a conductor, composer, singer, and educator, Don is perfectly cast as the production's pompous military officer, Zuniga, wherein he wonderfully adds another role to his already extensive repertory."
Mr. Ritchie also praised Maestro Dr. Robert Butts, conductor of Carmen. He said, "Rarely has a more perfectly selected ensemble been so well directed, for anyone familiar with New York knows the most difficult of all productions is the musical, and for coordinating this large ensemble so well, Maestro Butts deserves our kudos!"
More about Carmen
Carmen is an enthralling drama of love and jealousy, packed with well-known enchanting tunes and entertaining dances, "Carmen" is one of the world's most well-loved operas. With impressive bursts of color, the exciting production brings the wonders and sounds of Seville to life, from the dusty town center to the thrill of the bullring. Bizet's unforgettable score overflows with one pleasure after another, a music lover's display of opera's most intoxicating melodies.
"Carmen" was first performed at the Opera Comique, Paris, on the 3rd of March 1875. While many attended, nobody seemed to have much thought of the opera at that time. It is said that it wasn't until it was sung in Italian in England in June of 1878 that the opera became a success. Amazingly "Carmen" has now become the main stay of every opera company throughout the civilized world, and while it is presented regularly, the audiences never tire of the endless melodies and riveting drama.
Carmen is one of the most widely performed operas and with a score consisting of numerous unforgettable arias, this production of "Carmen" is excellent for both longtime opera enthusiasts and newcomers to the world of opera. Music Director, Paul J. Carroll said, "So much of the music is universally familiar. Even those who have never been to an opera will recognize a great deal of the music."
About Eastern Opera of New Jersey:
Eastern Opera Corp. is a nonprofit corporation organized and operated exclusively for charitable purposes. Specifically, Eastern Opera has been formed to encourage and instruct individuals for the purpose of improving and developing their capabilities, to educate the public on subjects useful to the individual and beneficial to the community, and to promote the arts and culture to the local communities. The first opera performance, Puccini's Madama Butterfly (May, 2013) was met with standing ovations. Subsequent performances have included fully-staged versions of Verdi's Otello and Strauss' Die Fledermaus, as well as concerts throughout the state of NJ. For more information contact Lou Kersey at loukersey(at)easternopera(dot)org or visit http://www.easternopera.org.
Tickets for "Carmen" are $35 general admission, $25 for students and seniors, and free for children under 12, and may be ordered by calling 908-566-5708 or online at http://www.easternopera.org/tickets. For more information, please visit http://www.easternopera.org.