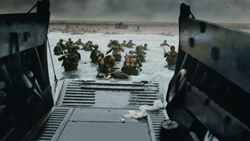 Dearborn, MI (PRWEB) March 25, 2014
The Henry Ford and 3D Entertainment Distribution invite audiences to step back in time with the new film D-DAY 3D: Normandy 1944, which opens at the The Henry Ford IMAX Theatre on Friday, March 28.
In May 1943, World War II is at its apex. To counter Hitler and the Axis forces, the Allies decide to open a second front on the western side of Europe. The Allied forces, led by US General Eisenhower, have just months to organize the operation code-named "Overlord," with only a 50/50 chance of success, that will break Hitler's Atlantic Wall fortress and lead to the Battle of Normandy.
Narrated by renowned journalist and author Tom Brokaw, D-DAY 3D: Normandy 1944 provides a new, penetrating look at this defining moment in history in a truly unique manner. D-DAY itself is well-known, yet few know in detail exactly why and how, from the end of 1943 through August 1944, this became the most important location in the world.
Blending multiple cinematographic formats, including animation, CGI and stunning live-action images, D-DAY 3D: Normandy 1944 brings this monumental event to Michigan's largest screen for the very first time. Exploring science, technology, engineering and mathematics, audiences of all ages, including new generations, will discover from a new perspective—in breathtaking 15-perforation/70mm IMAX 3D film—how this landing changed the course of history.
Over 3 years in the making and with a budget of 5 million dollars, all live-action sequences for the film were shot exclusively on location in Normandy, France. No fewer than five CGI and visual special effects companies also collaborated under the creative leadership of N3D LAND Films to complete the 43-minute film.
The second large format documentary film from writer & director Pascal Vuong, D-DAY 3D: Normandy 1944 is produced by N3D LAND Productions and distributed worldwide by 3D Entertainment Distribution. Ronan Chapalain is responsible for the stereography and post production, and Col. (Ret.) Peter Herrly is the main historical advisor. The original musical score was written by Franck Marchal and recorded by the London Symphony Orchestra, with conductor Paul Rouger. Producers are Catherine & Pascal Vuong and Sylvain Grain, and Normand McKay served as associate producer.
The film is recommended for all audiences. For information on tickets and show times, please call (313) 982-6001 or visit http://www.thehenryford.org/imax. For more information on D-DAY 3D: Normandy 1944, visit http://www.DDay-Normandy1944.com. Press materials and video assets are available for download from http://www.3DEpublicity.com.
ABOUT 3D ENTERTAINMENT DISTRIBUTION
Founded in 2001, 3D Entertainment Distribution is a fast-growing company focused on the production, post-production, theatrical sales and marketing of innovative 3D films for IMAX® theatres and digital 3D cinemas worldwide. Based in London and Los Angeles (CA), the Company is dedicated to immersing audiences of all ages in engaging, story-driven 3D experiences that inspire and educate. For more information about our company, please visit http://www.3DEfilms.com
ABOUT N3D LAND FILMS
N3D LAND Films is a production company founded by the four creators of the award-winning large format 3D documentary "Sea Rex: Journey to a Prehistoric World." In 2011, N3D LAND Films launched the production of the first large format 3D documentary devoted to D-Day and the Battle of Normandy. In 2013, it signed a partnership with 3D Entertainment Distribution for the worldwide release of "D-Day 3D: Normandy 1944," which is dedicated to the millions of men and women, soldiers and civilians, who gave their lives in this battle for freedom. For more information, please visit http://www.N3DLAND.com
ABOUT THE HENRY FORD IMAX THEATRE
Part of The Henry Ford – America's Greatest History Attraction – The Henry Ford IMAX Theatre opened in 1999 and is Michigan's largest IMAX theatre having the capability to show both 2D and 3D IMAX films. The theatre features Michigan's largest IMAX screen – over six stories tall & eight stories wide, highest seating capacity, and a 12,000-watt 6-channel digital surround sound system. IMAX films are projected via a 15,000-watt xenon arc lamp utilizing 15-perforation/70mm IMAX film stock (ten times larger than conventional 35mm film) which offers the best-possible image reproduction in motion picture projection. With crystal-clear images, 12,000 watts of digital surround sound, and a maximized field-of-view on its gigantic IMAX screen, The Henry Ford IMAX Theatre provides Michigan's most immersive and powerful movie experience – visitors will feel as if they are truly IN the movie they're watching. For film updates and additional information, visit thehenryford.org or connect with us on Facebook at facebook.com/imaxhenryford.
IMAX®, IMAX® 3D, IMAX DMR®, Experience It In IMAX®, An IMAX 3D Experience® and The IMAX Experience® are trademarks of IMAX Corporation. More information about the Company can be found at http://www.imax.com. You may also connect with IMAX on Facebook (http://www.facebook.com/imax), Twitter (http://www.twitter.com/imax) and YouTube (http://www.youtube.com/imaxmovies).
###