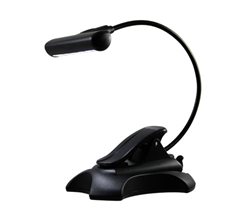 Mighty Bright's brightest book light becomes a task light with a convenient, sturdy base
Santa Barbara, CA (PRWEB) March 27, 2014
Mighty Bright, designer and manufacturer of innovative personal LED lights, is pleased to introduce the HammerHead + Cradle Base, a combination package of the popular HammerHead LED Book Light and the magnetic Cradle Base. With six LEDs, the battery operated HammerHead is Mighty Bright's brightest book light. The magnetic cradle base is compatible with many of Mighty Bright's lights, and allows users to use their book lights as free-standing task lights. The HammerHead + Cradle Base package is available at http://www.mightybright.com, an online shopping destination for LED lights for everyday life.
The energy-efficient HammerHead features a prominent, sturdy clip base, which can also be used free-standing. The light's stability is substantially increased when used in conjunction with the Cradle Base. The HammerHead easily snaps in and out of the magnetic Cradle. Additionally, the Cradle features four rubber pads for use on non-magnetic surfaces. The HammerHead and Cradle are perfect for illuminating small spaces and work areas with powerful, bright, targeted light; the light's flexible neck can be twisted to direct the beam of light precisely where needed. The HammerHead + Cradle Base is available in a matte black finish.
About Mighty Bright
Mighty Bright's uniquely designed, eco-friendly personal lights are portable and affordable. Based in Santa Barbara, CA since 1985, Mighty Bright blends ease of use with impressive functionality and durability. Since LEDs provide hundreds of thousands of hours of light, you can feel good about your earth friendly purchase. For more information, contact Mighty Bright: 800.922.3233 or visit http://www.mightybright.com.