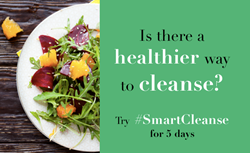 'Before I developed this I ate pretty well except for a sweet tooth,' said Adelma. 'So I was blown away at what a difference it made. No 3pm slump. I had energy all day, tighter focus and I was less reactive to daily challenges.'
New York, NY (PRWEB) March 26, 2014
Long hours in corporate, banking, law or entrepreneurship really add up in the mid-thirties. Many people are turning to nutrition to improve their energy, optimize their lives and go to the next level. The right cleanse can help, but it has to be smart.
"I developed Smart Cleanse," says Wellness Consultant Adelma Lilliston, "because I saw my colleagues trying cleanses for energy or to lose weight. Yet a week or two later they were still tired. Nothing changed."
That is not a surprise. Fruit juices, supplements or extreme calorie deprivation can affect energy, moods and long-term weight gain. Here is some of the research:

Dramatic drops in blood sugar, caused by either not eating at regular 3 to 4 hour intervals or eating too much sugar then crashing 1 to 2 hours later, can cause fatigue.
Sugar can add to anxiety and may compromise learning & memory, according to Psychology Today.
Sugar, processed foods and trans fats can cause inflammation, the precursor to diabetes and heart disease according to the Harvard Medical School.
Gluten can cause brain fog.
Supplements don't really work. Many vitamins require a combination of nutrients and carrier agents to be absorbed effectively into the body. Get vitamins in your diet. For more info.
The good news is this also gives us a roadmap for a healthier cleanse:

Focus on whole foods instead of processed foods
Get off added sugar
Reduce gluten
Eat lots of omega 3 proteins like salmon and walnuts.
Sounds like too much work? The Smart Cleanse makes it easy for you. Here's what to expect:
A one page Monday-Friday plan of delicious whole meals you can order (no cooking)
No juices, fasting or calorie deprivation
"Before I tried this, I ate well except for a serious sweet tooth. So I was blown away at what a difference it made. No 3pm slump. I had energy all day, my focus was tighter, and I was less reactive to daily challenges."
Clients in finance, consulting and entrepreneurship are amazed at the difference. Many have switched their daily eating habits because they feel so much better.
Try the Smart Cleanse for Women or for Men. There is also a version for Vegan, Gluten Free and Soy Free diets with recipes. Get all 3 here for free at Joy & Brussels Sprouts.
Company Information
Adelma Lilliston, CHHC, AADP, MBA is a Wellness Consultant and the Founder of Joy & Brussels Sprouts. She works with corporate professionals and entrepreneurs to optimize their lives. Her specialties are nutrition, fulfillment and love. Her signature program is the 6 month Evolve Program. More about her services. In a former life, she worked for a major multinational corporation.