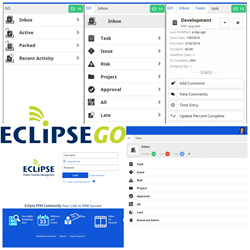 Toronto, Ontario (PRWEB) March 27, 2014
This release packs a real punch for each type of user, particularly with the introduction of Eclipse GO. GO provides a very light weight, responsive design, and mobile-optimized interface for any project team member to update and collaborate on project assignments and activities.
Whether you are working on your desktop, your laptop, your tablet or even on the move with your smartphone, Eclipse GO will provide access to your existing assignments, highlighting new ones, and allows you to make updates from any device. You will also be able to see updates your colleagues are making to shared projects and work items, as well as comment, reply and otherwise collaborate with them.
With the simultaneous release of Eclipse GO, Eclipse PPM has been updated in a number of ways to integrate with the GO product. Administrators can determine if GO is enabled for their users and most actions and updates in Eclipse PPM are automatically reflected and available in GO.
Some of the key new features that have been applied to Eclipse PPM are in the areas of timesheets, user authentication, bulk updates and member permissions.
With the new functionality of timesheet approvals, projects or operational work requiring approval can be completely configured to meet your specific organization's needs. This includes approvers being setup at a resource level across the portfolio and/or specifically at a project level.
A resource's ability to manage their workload has also been made easier with planned timesheet options. This feature provides users with the ability to see their planned allocation against projects, tasks and operational activities right in their timesheet. This can provide guidance to resources as to where they are expected to spend their time and how their actual efforts in a week align with those that were planned.
Eclipse's spring 2014 Release has made updating projects and resources a great deal easier. New functionality has been included inside of Eclipse PPM, which allows users to apply updates to multiple projects and resources at one time across a variety of attributes, which is also available for project template settings. Using the power of Eclipse quick or advanced searches, users can select any or all projects, resources or templates at one time and clear or update values quickly.
In addition to the numerous new features, the Eclipse PPM spring release includes a number of application enhancements.
Some of the more notable enhancements include the ability to search a project by resource or role, sort and group custom project properties on the Portfolio Summary Dashboard, define default allocations in % units for individual resources and easily add users from one environment to additional ones for organizations that have more than one environment. And to go along with the increased focus on friction-free updates and collaboration, the Email-In feature has been extended to support the addition of comments across all data types.
To find out more about the capabilities and features mentioned in this article and how these may benefit your organization's project and portfolio management efforts, contact Solution Q directly.
About Solution Q
Solution Q is the maker of Eclipse GO and Eclipse PPM, project portfolio management software that helps to simplify project and portfolio management to make it more successful for 'all voices in the room.' Solution Q provides a combination of process, PPM software and partnership to deliver improved business results. For more information visit http://www.eclipseppm.com/content/project-management-software