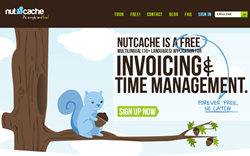 Laval (Canada) (PRWEB) March 26, 2014
NEW AND IMPROVED WEBSITE AND BLOG
The increasing number of wireless devices that are accessing the Internet worldwide is one of the primary factors that guided Nutcache in its development and growth strategy. The growing mobile trend is what motivated the Nutcache team to develop a responsive website and blog. "Our new website is easy to read and to navigate with a minimum of resizing, panning and scrolling across a wide range of devices whether you are on your smartphone, your tablet, or on your desktop. Our website clearly presents Nutcache's various features and facilitates interaction between users," says Sébastien Boyer, Director of research and development at Dynacom Technologies, the Canadian company behind the Nutcache project.
A MOBILE APPLICATION
In the spirit of offering a user-friendly product and to help our users better manage their projects and tasks, Nutcache has developed Time Logger, a mobile application available for iOS and Android platforms.
OPTIMIZED COMMUNICATION WITHIN THE WEB APPLICATION
Nutcache's web application has also been improved to enhance communication with our clients and improve exchanges between users and their clients. "Our users are very enthusiastic and involved in the growth of the software, which pushes us to work even harder. We want to be able to offer them a product that meets their growing needs and expectations, while keeping our promise to stay free," concludes Sébastien Boyer.
ABOUT NUTCACHE
Nutcache is an online application developed by Dynacom Technologies, a Canadian company with over 20 years of experience and a proven track record in developing invoicing and accounting software programs that appeal to thousands of users around the world. Nutcache's goal is to make business management easier for consultants and small businesses, with user‐friendly tools that are completely free.
To visit Nutcache's new website: http://www.nutcache.com
To visit Nutcache's new blog: http://blog.nutcache.com