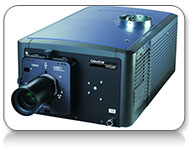 With Christie supplying the highest quality of digital cinema equipment and technical support.
(PRWEB) March 27, 2014
Christie will supply an assortment of Christie Solaria® One+ and Christie CP2220 projectors to the Cinemagic complexes, facilitated by Scrabble Entertainment, an international deployment entity whose financing of DCI-compliant digital cinema projector conversions helps all manner of cinemas make the move to digital technology.
"With Christie supplying the highest quality of digital cinema equipment and technical support, Cinemagic will be able to offer to our audience the best quality in cinema projection in each of the cities we serve," said Roberto Quintero, CEO, Cinemagic.
"Cinemagic is to be commended on its mission to bring cinema to the small communities without entertainment options in Mexico," said Ernesto Armus, general manager for Christie Mexico. "We are honored to be part of its mission and are committed to supplying Cinemagic with the worlds leading digital projection hardware, software and services."
Roberto Quintero said, "We are confident that with dedication, effort and together with our strategic partners, we will ensure the growth and consolidation of our project to successfully bring cinema to the small communities of our country."
About Cinemagic
With the dream that all Mexicans have cinemas in their communities, Cinemagic history starts in 2000. A professional group of film enthusiasts accepted the task to generate a concept of cinemas for communities with a population between 50 and 70 thousand inhabitants with no entertainment options, providing quality in the facilities, premieres and an important social component.
The company has since 2006 the label of Socially Responsible Company provided by the Mexican Center for Philanthropy.
The Cinemagic business model was recognized in 2010 by CNN Expansion magazine as one of the enterprising models of the year. In that same year, Entrepreneur magazine recognized it as a model with growth potential.
Cinemagic participated in South Africa in 2010 in the international selection panel of the business incubator Endeavor, managing to be selected as a global entrepreneur. Cinemagic aims to develop through cinema the family union and happiness in the small communities of Mexico, looking to be a highly productive, fully human and socially responsible company.
For more information, visit http://www.cinemagic.com.mx.
About Christie®
Christie Digital Systems USA, Inc. is a global visual technologies company and is a wholly-owned subsidiary of Ushio Inc.. Consistently setting the standards by being the first to market some of the world's most advanced projectors, complete system displays, and cinema audio solutions, Christie is recognized as one of the most innovative visual technology companies in the world. From retail displays to Hollywood, mission critical command centers to classrooms and training simulators, Christie display solutions and projectors capture the attention of audiences around the world with dynamic and stunning images, accompanied by awe-inspiring sound. Visit http://www.christiedigital.com.
-30-
For more information, contact:
Dave Paolini
+1 519-749-3127
David(dot)Paolini(at)christiedigital(dot)com
Patricia Ornelas
PR Consultant
+52 (55) 5513 9125, (55) 5025 7421
patriciao(at)att(dot)net(dot)mx
Ignacio Fossati
PR Consultant
(+34) 911019761
ignacioprensa(at)gmail(dot)com
Follow Christie at:
Facebook.com/christiedigital
Twitter.com/christiedigital
"Christie" is a trademark of Christie Digital Systems USA, Inc., registered in the United States of America and certain other countries.