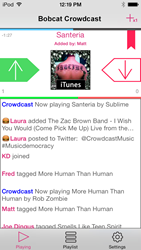 Crowdcast gives everyone control of the music that plays, virtually anywhere. No Wi-Fi necessary.
San Francisco, CA (PRWEB) March 27, 2014
DataViz, Inc., a leading provider of iOS software, today announced an update to the recently released Crowdcast™ for iOS, an app allowing guests at parties and social events to interact with living playlists by voting for songs they like and adding music picks to playlists from their own device. Now, users can start or connect to a Crowdcast party playlist and add music from their devices, even when a Wi-Fi connection is unavailable.
In the initial release, to host or join a Crowdcast party all users had to be connected to the same Wi-Fi access point. Thanks to Apple's new Multipeer Connectivity framework that was added in iOS 7, users can now connect to a Crowdcast party, vote songs up and down or even add their own music by simply having Wi-Fi and/or Bluetooth activated on their iOS devices.
"Crowdcast has been providing music playlist democracy. Now, with added Multipeer Connectivity, we're providing spontaneity," said Matt Lucia, head developer for Crowdcast, DataViz, Inc. "Whether you're tailgating at a football game, with friends on the beach or road tripping, Crowdcast gives everyone control of the music that plays, virtually anywhere. No Wi-Fi necessary."
Live at Macworld
DataViz will demo Crowdcast with the new Multipeer Connectivity ability at the Appalooza showcase at Macworld/iWorld in San Francisco from March 27-29, 2014. Visit the DataViz kiosk to get in on the party.
Pricing & Availability
Crowdcast is available for free on the App Store and is compatible with iPhone, iPod touch, and iPad. Requires iOS 7.
For more information on Crowdcast, visit CrowdcastApp.com and/or the App Store and be sure to follow Crowdcast on Facebook at http://www.facebook.com/CrowdcastApp for the latest news, tips and product releases.
About DataViz
Founded in 1984, DataViz, Inc. is an industry leader in developing software solutions for iOS, Android™, BlackBerry, Windows®, and Mac platforms. DataViz partners include Microsoft®, Motorola®, BlackBerry, Samsung, Sharp®, and other industry leaders.
All product and company names are trademarks or registered trademarks of their respective holders. ©2014 DataViz, Inc.