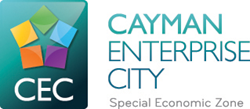 Following our strong performance in 2013 with technology companies, we look forward to applying the same focus and effort to the commodities industry
George Town, Grand Cayman, Cayman Islands (PRWEB) March 27, 2014
Cayman Enterprise City (CEC), the Cayman Islands' award-winning special economic zone, today announces 2014 plans for a focus on global commodities companies seeking to curb escalating operational costs in order to become more profitable. CEC began the outreach in Canada this month by sending business development team members to the Prospectors and Developers Association Convention (PDAC) in Toronto, the mineral industry's premier annual convention. CEC's Global Business Development Manager Sheridan Robinson accompanied Ramesh Maharaj, a Partner with Walkers a leading Cayman Islands law firm.
"As a Canadian I am well aware of the significant impact of the mining industry to the Canadian economy," she says, "Canada ranks first among producing countries, and is the largest exporter of minerals with more than 20% of production shipped to world markets. The opportunity to network at PDAC with so many leaders in the industry and ancillary businesses was invaluable to the development of our Commodities and Derivatives Park here in Cayman."
In addition to networking and direct presentations at the convention, Robinson and Marharaj conducted a series of face-to-face meetings with mining companies and commodities companies, touting the jurisdiction's and zone's business advantages to international businesses looking to expand and become more competitive in the global arena. As other jurisdictions consider regulating physical trade, the Cayman Islands maintain an appropriately regulated environment, and through unprecedented concessions, the Cayman Government has empowered companies that establish in CEC to enjoy a more favourable bottom line.
It's not just mining and commodity companies that can set up within CEC, but traders and trading houses as well and the encouraging news for traders operating from CEC is that they can be supported by Bloomberg, just as if they were trading back home in Toronto, New York, Chicago or wherever their home city may be.
Tim Crawford is the Caribbean Business Development/Relationship Manager at Bloomberg LP services clients within CEC and here's what he has to say:
"Bloomberg provides specialized commodity data, analytics, news, and research to those who have a financial interest in the commodities market. We have a team of research analyst who can work with our clients to help identify trends in the market and provide direct client support with our frequent trips to The Cayman Islands. Companies setting up in CEC can now subscribe to our services"
Companies within CEC are given a zero-tax guarantee: no corporation tax, no sales tax, no capital gains tax and no import duties. Companies can retain 100% ownership, and because they can set up a genuine physical presence in Cayman they can generate tax-neutral active business income in this jurisdiction. Cayman Enterprise City offers a number of licensing packages that allow a company to quickly and efficiently set up and operate. The zone's Client Relocation Team streamlines the licensing process through a dedicated government authority within 10 working days.
Cayman Enterprise City CEO Charlie Kirkconnell says CEC is seizing an opportunity created by changes in the business environment of commodities markets worldwide, and Canada is just the beginning. In 2014 the business development team will also target commodities companies and traders in Geneva, Switzerland and Singapore.
"We understand that many commodities companies are feeling over burdened by excessively high operating costs in the jurisdictions where they are currently based, such as Switzerland and Singapore where housing, office rent and the cost of living have become cost-prohibitive. We want them to know that Cayman Enterprise City is an ideal and cost-effective solution and we want their business," he says.
Traders who make the move to Cayman will find a welcoming Caribbean island; a British Overseas Territory with a sound financial system, a first-world infrastructure, excellent communications and an affordable cosmopolitan lifestyle. Cayman also provides easy access to Chicago, New York City and London and it is on Eastern Standard Time, convenient for accessing major exchanges and the large commodity producing regions of North America, Central America, and South America.
More than 109 companies are now established in Cayman Enterprise City, housed in a number of interim zone-designated buildings. CEC expects to break ground on a permanent campus this year, and Kirkconnell says 2014 promises to bring more growth and development for Cayman's special economic zone.
"Following our strong performance in 2013 with technology companies, we look forward to applying the same focus and effort to the commodities industry," he says. "We want to promote the economic, legal and financial advantages of Cayman Enterprise City to create one of the most dynamic entrepreneurial centers in the world."
About Cayman Enterprise City
Cayman Enterprise City is an award-winning Special Economic Zone located in the Cayman Islands, focused on knowledge-based industries, technology companies and specialized services businesses. With a dedicated Government Authority and guaranteed fast-track processes, international companies can quickly and efficiently establish a genuine physical presence in the Cayman Islands. This enables businesses take advantage of Cayman's jurisdictional benefits which include exemption from corporate tax, income tax and capital gains tax, along with a raft of special zone concessions and incentives. These concessions were designed to attract international companies from five specific high-tech sectors; internet and technology, media and new-media ventures, biotechnology, commodities and derivatives, and academia.
For more information:
Call: 1-345-945-3722
E-mail: h.cahill(at)caymanenterprisecity(dot)com
Web: http://www.caymanenterprisecity.com
Facebook: http://www.facebook.com/caymanenterprisecity
Twitter: @CEC_Cayman
LinkedIn: Cayman Enterprise City