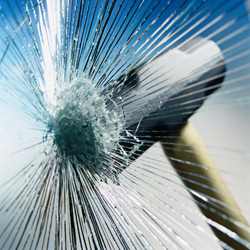 "It is important to remember, imitations have their limitations," stated Jordan Frankel, founder of Global Security Experts, Inc.
Atlanta, GA (PRWEB) March 26, 2014
Global Security Experts, Inc. recently released a consumer alert warning against counterfeit BurglarGARD Window Protection Film kits. The counterfeit DIY window protection film kits are missing several key features present in the authentic BurglarGARD kits.
The discovery of the counterfeit window protection kits has come a month after Global Security Experts identified counterfeits of their OnGARD SMART Dummy Cameras. The home security experts have spent a lot of money and time trying to thwart counterfeiters by contacting state and government federal agencies upon discovery.
"We have recently noticed counterfeit BurglarGARD Window Protection Film kits emerging on the global marketplace," stated Jordan Frankel, Security Sensei and founder of Global Security Experts, Inc. "These imitation kits are vastly inferior to the BurglarGARD and are missing essential aspects that have made our product successful for almost 20 years. Many of these imitations have limited or no warranty and do not contain multiply film. One of the easiest ways to identify our product is by looking for the ShatterGARD guarantee." Frankel further states it is important to remember imitations have their limitations.
The easiest way to identify the counterfeit products is by price, the knockoffs can be up to 50% less than the authentic kits. Another identifying characteristic is the ShatterGARD lifetime guarantee; many of these knockoff kits have either a limited or no warranty associated with the product. However, consumers will quickly realize these imitation kits are lacking additional defining features. The imitation glass protection kits do not include multiply film, which strengthens the protection film, nor is the film optically clear. These counterfeit products are not only inferior in quality but are not available in various sizes and are lacking instructions and the tools for installation that come with an authentic BurglarGARD kit. Many of these inferior imitation products can be found on reseller sites including eBay and Amazon.
"In a world of knockoffs, counterfeits and generally inferiors products, Global Security Experts is one of the only companies to take a strong stance against the undermining counterfeiters in the industry as a whole," stated Tom Lynch from The Society of Professional Locksmiths (SOPL).
Unlike the inferior films, BurglarGARD glass protection kit has been installed on many notable buildings from the FBI, to AT&T to Best Buy. These installations have been tried and tested since 1996.
Produced by ShatterGARD, BurglarGARD is a do it yourself window protection coating that protects and strengthens home and commercial windows. The BurglarGARD film slows down or prevents an intruder from breaking through any home or commercial windows and can even protect against violent weapons such as a baseball bat, bricks, and rocks. Easily applied to the interior surface of window panes, the BurglarGARD is available in a wide variety of sizes to accommodate any installation. The protection film transforms ordinary windows into super strong invisible barriers while still allowing them to open and close normally.
The BurglarGARD window protection kit is currently available on the Global Security Experts' website. It is the ideal fit for any home or business owner looking for a cost-effective glass protection solution that does not compromise quality or safety for affordability. For more information please visit: http://www.globalsecurityexperts.com.
About Global Security Experts:
For nearly two decades, Jordan Frankel has led the professionals at Global Security Experts in providing affordable, customized home security solutions for the everyday citizen. Global Security Experts offers the latest state-of-the-art security devices and physical deterrents to home invasion, as well as on-site training to families, businesses and individuals worldwide. Frankel, known as the Security Sensei, is a highly trusted authority in the field of residential security. He has completed home security makeovers and trainings for celebrities, high-profile business executives, and even a former President of the United States. Frankel and his revolutionary security inventions have been featured on several national television shows and in news outlets throughout the country, including The Oprah Show, The Rachael Ray Show, Fox News, The Boston Herald and more. Additionally, Frankel has authored countless articles for a variety of the most respected security publications worldwide. To learn more and to find out what Global Security Experts can do for you, visit globalsecurityexperts.com.