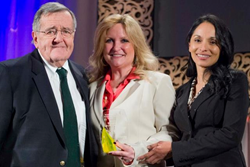 Until we have a cure for Alzheimer's, we need to have the best possible care.
Minneapolis/St. Paul, MN (PRWEB) March 26, 2014
Ecumen, one of the nation's largest nonprofit providers of senior housing and aging services headquartered in Shoreview, Minn., received national recognition as winner of the LeadingAge Excellence in Dementia Care Award presented March 17 at the Great Minds Gala in Washington, D.C.
The award honors Ecumen Awakenings™, a care program that emphasizes managing dementia without highly sedating drugs. Residents, their families, doctors and care staff all work together to replace traditional drug therapies with individualized techniques that reduce anxiety and difficult behaviors while improving quality of life.
The award was presented by LeadingAge, a national association of nonprofit aging services providers. It recognizes extraordinary leadership in the quest to improve lives of those touched by Alzheimer's disease and other dementias. Between 2010 and 2013, Ecumen Awakenings achieved a 97% reduction in the use of psychotropic medications, decreasing dosage or discontinuing use of more than 1,000 of these potentially harmful drugs.
Senator Amy Klobuchar of Minnesota addressed the gala attendees by video and recognized Ecumen as a leader in healthcare innovation. Klobuchar has introduced legislation to increase federal support for Alzheimer's research and provide tax credits to caregivers.
In accepting the award, Shelley Matthes, RN, Ecumen director of quality improvement, told the gala attendees: "I often tell my colleagues that when we know better, we do better. Awakenings is an evolution of many wonderful, intelligent, kind people who put their heart into this work to learn, to do better, so people's lives are better. Until we have a cure for Alzheimer's, we need to have the best possible care."
"Alzheimer's Disease affects more than 5 million people, many of whom are cared for by our members or informal caregivers," said Larry Minnix, LeadingAge's president and CEO. "We hope that the examples set by this year's honorees highlight the work that is being done to care for those affected while we search for a cure."
Ecumen shared the stage with country music entertainer Glen Campbell and his family, who received the Senator William Proxmire Award for their advocacy for research, education and support related to Alzheimer's disease since 2011, when the disease was diagnosed in the country singer. The award is named for the late U.S. Senator, who had Alzheimer's disease.
Ecumen Awakenings has received media attention for its innovative approach to dementia care from the Washington Post, The New York Times, the Minneapolis Star Tribune and KARE11-TV. Go to http://www.ecumenawakenings.org for more information.
About Ecumen
Ecumen is one of the nation's top 20 largest non-profit providers of senior housing and aging services. Based in Shoreview, Minn., Ecumen operates in 37 cities in Minnesota, North Dakota, Wisconsin, Nebraska, Idaho and Tennessee, providing a variety of senior housing options and services including independent living, assisted living and long-term care communities as well as at-home and community-based services. Dedicated to empowering individuals to lead richer, fuller lives, Ecumen prides itself on innovation and radically changing the way aging is viewed and understood. Ecumen, founded more than 150 years ago, was named "Best Places to Work" eight times by the Minneapolis/St. Paul Business Journal and one of Minnesota's Top Workplaces by the Minneapolis Star Tribune and Minnesota Monthly Magazine. To stay up-to-date on the latest news, find us on Facebook or visit http://www.ecumen.org.
Resource links:
Ecumen: http://www.ecumen.org/
Ecumen Awakenings:http:// http://www.ecumenawakenings.org/
LeadingAge: http://www.leadingage.org/
Great Minds Gala: http://greatmindsgala.org/